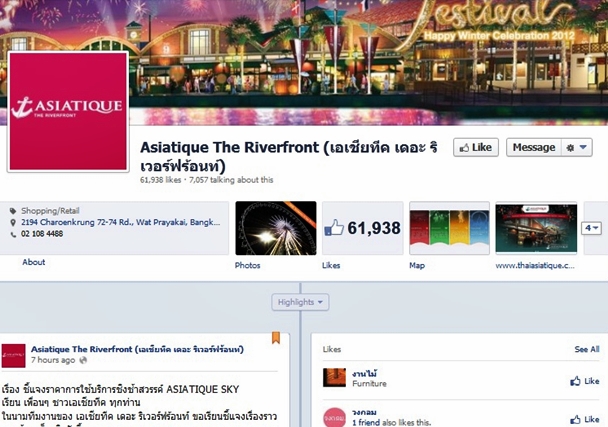 You know Asiatique needs to find new public relations people when whoever is doing the PR for the Asiatique Riverfront allowed the company to make yet another disastrous mistake today when it comes to the dual pricing fiasco of Asiatique's ferris wheel. After all, when foreigners are all over the Internet complaining they are having to pay more than Thais for tickets to ride Asiatique's new ASIATIQUE SKY ferris wheel, Asiatique made the decision to change the dual pricing system — and charge Thais more.
Seriously, you'd have to try hard to be this incredibly stupid.
The situation began on Saturday when Bangkok blogger, Richard Barrow, realized that farangs (foreigners) were being charged 50 baht more to ride the new ASIATIQUE SKY ferris wheel than Thais were. So, he went to Asiatique's Facebook page and politely asked why. His post was promptly removed and he was banned from posting there.
Within hours, the Internet in Bangkok was aflame with foreigner after foreigner, and some Thais, not only complaining about the unfair higher price for foreigners, but also complaining about the treatment of Richard Barrow by Asiatique. The row made it to the Bangkok Post were a couple of articles were written about the Asiatique dual pricing fiasco.
So, early this evening, Asiatique made an announcement on their Facebook page that the dual pricing would be lifted and everyone would be charged the same.
But, before you go off to celebrate, 'the same' to Asiatique management meant instead of reducing the price for foreigners to what Thais were expected to pay to ride the ferris wheel, now Thais would have to pay the same price as farangs — 50 baht more.
All I can say is, whether you are Thai or a foreigner, do you really want to give your money to a company that is really this clueless?
After all, a company that knew anything about good public relations would have immediately apologized for the dual pricing and reduced the price for foreigners to the Thai price.
A company that does not have any clue about public relations, on the other hand, will instead make an even more stupid decision than their first decision and increase the price for the vast majority of the population.
I can't wait until tomorrow when Thais descend on Asiatique's Facebook page en masse. After all, just because foreigners are being charged more by Asiatique, there's no reason why Thais should be as well.
UPDATE: As of just a few minutes ago, Asiatique has updated their Facebook page stating that ALL people who choose to ride the ferris wheel will be charged the same 200 baht rate — Thais and foreigners.
Thank you Asiatique. That's all we asked. And now I can happily visit next week with my Thai friend, and we'll both be happy to ride the Asiatique Sky ferris wheel.
Related