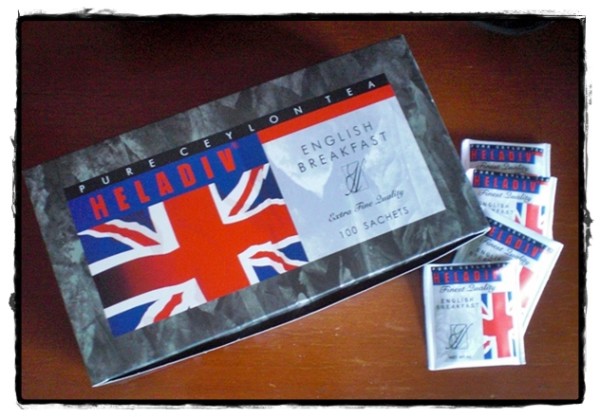 In my current quest to find drinkable tea in Thailand, I recently bought a box of Heladiv English Breakfast tea, a Ceylon tea that's available for sale at Big C and various other Bangkok supermarkets. Unfortunately, I bought a large box of tea (100 sachets) as it  was a much better deal than the smaller one. Had I know how bland and tasteless these Heladiv English Breakfast tea bags are, I wouldn't have bothered.
Taste of Heladiv English Breakfast tea
A typical authentic English breakfast tea is a black tea that has a very full body and is rich and satisfying. The Heladiv English Breakfast Tea, on the other hand, is weak, quite tasteless and, for me, required using three tea bags in a standard size mug just to get any flavor at all. Even with three bags, the taste was so bland and insipid, at some points I could have quite easily been drinking hot water with some milk and sugar added as it would have tasted the same.
While not quite as bad a taste as the Tesco Tea Bag tea I had the misfortune of drinking last week, these tea bags were a very close second.
The sad thing about this is I'm not even the type of person who likes strong tea, so if I'm saying Heladiv English Breakfast Tea requires three tea bags for it to have any taste, you can only imagine what someone who enjoys a strong cup of tea would need. Five, six, seven teabags? Even then, the taste would be minimal as this tea simply doesn't have any.
Price of Heladiv English Breakfast Tea
While price-wise they are moderately inexpensive tea bags, even at the 178 baht ($5.52) I paid for 100 bags, they work out to be expensive if I'm just going to throw them away.
As it stands at the moment, I'm going to try to use one tea bag along with another tea bag from a different brand of tea to see if I can drink these tea bags that way. If I can't, they're destined for the rubbish bin, which is where the Tesco Tea Bag brand ended up, as the way the Heladiv English Breakfast Tea bags taste at the moment, for me, they are completely undrinkable as a stand-alone tea.
Surely, it shouldn't be this difficult to find drinkable tea bags in Thailand, as this is now my fourth attempt with four different brands, and not one of them would I buy again?
If you want to give Heladiv English Breakfast Tea bags a go in Thailand to see if your experience is any different than mine, you'll find them at Big C, Tesco Lotus, Tops and various other Bangkok supermarkets. They're priced between 170 and 185 baht for a box of 100 sachets depending on the store.
Related