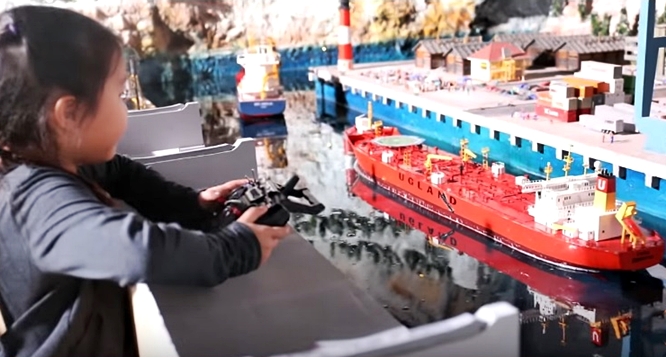 If you love the world of miniatures and you are in Bangkok, Thailand, you must visit Stanley MiniVenture. Billed as Asia's 'largest miniature town', Stanley MiniVenture is indeed massive, with mini worlds spread all over a 1,000 sq meters space at the Gateway Ekkamai mall.
What makes this place so incredibly cool to visit, though, is the diversity of what is available to see, with 11 zones including the desert, the central business district, a cave, a beach, a resource town, a farm, an airport and 'Very Thai', which showcases traditional and modern iconic buildings from all over Thailand.
Much of what is there is also moving, so being at Stanley MiniVenture is not just a case of standing staring at tiny buildings, roads, railways and people. The trains and planes are moving, there are buttons to press so you can start diggers digging for real, trees fall, houses are lit up at night and much of it feels like you are watching a real world go about its business.
The only drawback of Stanley MiniVenture?
It's not the cheapest place in Bangkok, with tickets available online for 550 baht for adults and 350 for children. Considering 550 baht is almost two days' salary for a Thai, you can only imagine how many average Thai families are going to come here with their kids.
That being said, it is a fun place so, if you have the money, go.
Watch the video below with the adorable Dek Jew for a closer look.
Did You Miss These Awesome Articles About Thailand?