Abhisit and Suthep Charged with Murder Over Thai Taxi Driver's Death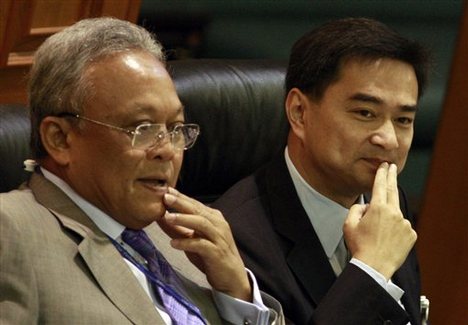 It seems there may be justice in Thailand after all. The Thai Department of Special Investigation (DSI) has announced today that, after much deliberation, both former Prime Minister of Thailand, Abhisit Vejjajiva and his Deputy Prime Minister, Suthep Thaugsuban, will be formally charged with premeditated murder. The murder charges stem from the death of a Thai taxi driver caught up in the 2010 anti-government protests in Bangkok and the subsequent military attack.
The taxi driver, Phan Khamkong, died after being shot during the red shirt protests by soldiers who had been ordered to the scene by Abhisit and Suthep.
Suthep was the head of the Centre for the Resolution of the Emergency Situation (CRES) at the time and was heavily involved in the decision to call out the military, who subsequently received written orders to use firearms against protesters. These orders allegedly ultiimately contributed to the deaths of 89 mainly peaceful protesters and two western journalists.
Abhisit Vejjajiva and Suthep Thaugsuban have been informed they will be expected at the offices of the DSI on , Dec 12, at 2pm to acknowledge the charges and to answer questions. Formal charges against the two will then be filed.
The interesting thing about the filing of murder charges against Abhisit and Suthep is, regardless of the final outcome, (and I fully expect the two will be acquitted, it being corrupt Thailand and all) is that, for all their 'connections' and for all that Abhisit was born in England and educated at Oxford, in the international media at least these two now look like nothing more than your stereotypical Third World leaders.
As for Abhisit, he is now known in many Thai circles as "The Butcher of Bangkok".