Abhisit and Suthep Could Face Murder Charges: Finally, Justice in Thailand?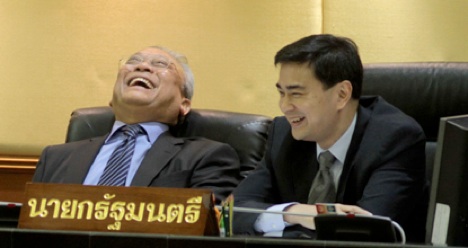 When Abhisit Vejjajiva was Prime Minister of Thailand, his Deputy Prime Minister was Suthep Thaugsuban. Under the governance of these two political officials, 91 people lost their lives in Bangkok in 2010 when Abhisit, backed up by Suthep, ordered a military crackdown against thousands of red shirt anti-government protesters camped out in downtown Bangkok. An Italian journalist and a Japanese cameraman were among those killed. According to a court decision today, Abhisit and Suthep could now face murder charges.
Criminal Court, Department of Special Investigation (DSI) chief Tarit Pengit has announced a ruling from the Criminal Court that said Phan Khamkong, a taxi driver from Yasothon, was shot and killed on May 15, 2010 by Thai military troops acting on orders issued by the Centre for the Resolution of Emergency Situations (CRES). The CRES was headed by Suthep and fully supported by Abhisit.
Because of this ruling of culpability on the part of the military, the door is now open for Thai courts to pursue at least 35 more cases of murder, most of which will name Abhisit and Suthep as defendants if the cases go forward.
Abhisit and Suthep could be charged with murder? It seems there is some justice in Thailand after all. Or is there?
This still being Thailand, don't get too excited just yet. There is currently a committee still investigating the 91 deaths and it's up to them to decide who, if anyone, is charged with murder. This being Thailand, one of the world's most corrupt countries, it's safe to say few committees in Thailand are immune to corruption or "persuasion" by people interested in the outcome of a committee's investigation.
Whether this one is, we'll have to wait and see.