Abhisit Vejjajiva Resigns as Democrat Leader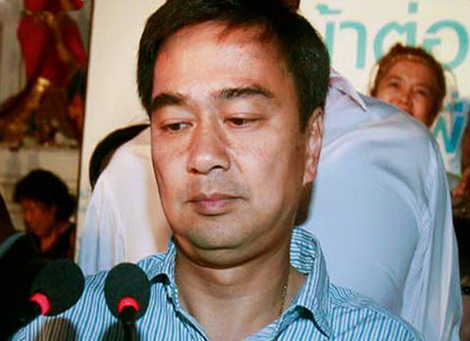 Defeated Thai prime minister, Abhisit Vejjajiva, announced his resignation as leader of the Democrat Party this afternoon, fulfilling the promise he made during his election campaign.
At the time, although Abhisit expected the Democrats would win at least 170 seats in yesterday's general election, he still said he would resign if they didn't.  Once the devastating news for the Democrats came in yesterday —  they'd only won 159 House seats, after a landslide victory by Pheu Thai —  Abhisit had little choice but to step down. He resigned at a short press conference a couple of hours ago.
Abhisit will  hold the post of caretaker party leader until the party holds a general assembly to elect a new executive committee sometime within the next 90 days. This doesn't mean however that he won't be party leader, as he could be re-elected at the general assembly, particularly as the Democrats still say they have complete confidence in him.
Meanwhile, Thida Thavornset, the chairwoman of the red-shirt movement has called for Abhisit and the military to be brought to justice for the 91 deaths during last year's red shirt anti-government protests. The 91 deaths include two foreign journalists — an Italian and a Japanese — shot by Thai military sharp shooters.
Thida said Abhisit and officials in the Centre for Resolutions of Emergency Situation would be held responsible for the deaths and injuries.