Bangkok Explosions; Reports Red Shirt Protester Killed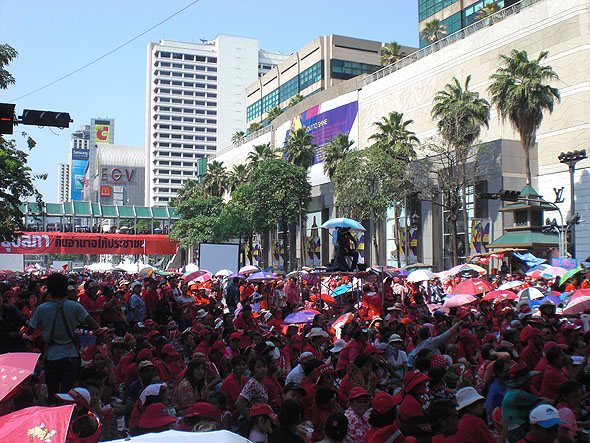 CNN is reporting explosions and live ammunition being fired in downtown Bangkok around the area of the red shirt anti-government protest site. The government of Abhisit Vejjajiva announced this morning, beginning at 6pm tonight, the red shirt protest area would be surrounded by the army in an attempt to lock them down and clear them out. Red shirt protests have been camped out in downtown Bangkok for almost two months shutting down much of the city's main shopping area.
CNN is also reporting a freelance reporter saying one of the red shirts' main leaders has been shot and killed, although Thai media is reporting the leader was the famous Seh Daeng, who was wounded and is now at Chulalongkorn Hospital receiving treatment.
With the military moving in and the likelihood the death toll in this crackdown could be high, many Thais think this could be the beginning of a civil war. With red shirt protesters supported by the vast majority of Thais in the northern parts of Thailand, and the government largely supported by the middle and upper classes in Bangkok, Thailand is setting itself up for a stereotypical civil war.
Poor Thais are tired of the short end of the stick they feel they're always getting so, if casualties are high in this crackdown, the possibility is they won't just slink off quietly but instead will arm themselves and fight.
With poor Thais also having a lot of support in the police ranks and in the army, it's not as simple as the government giving the army and police orders to clear the red shirts and to use live ammunition if necessary. In the last attempts at red shirt crackdowns a month ago, both police and military showed quite clearly there were many in their ranks that, if push came to shove, would probably change sides.
The red shirt protesters are also largely made up of women and children, which will not go down well with Thais if casualties are high in this crackdown and include these two groups.
Human rights activists from Thailand and overseas have already warned too severe a crackdown is against international human rights. Amnesty International recently even warned Thailand must adhere to international principles on crowd dispersal and the use of force.