Bangkok House of Yingluck Shinawatra, Thai Prime Minister, Begins To Flood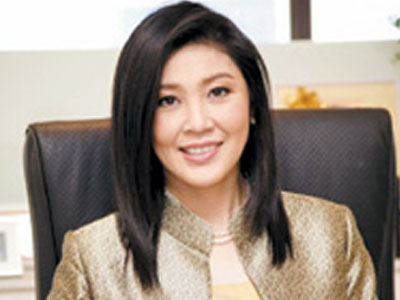 In a purely symbolic moment, Thai news is just reporting the Bangkok house of Thai prime minister, Yingluck Shinawatra, is begining to flood. Flood water is pouring into the grounds of the house through the drainage system, which means, if it cannot be stopped,  Yingluck's house is likely to be a couple of feet underwater soon, just like the homes of many of the rest of us. The house is located in the Bueng Kum district of Bangkok, and is close to a canal that's now overflowing its banks.
As some in the Thai government continue to say some areas of Bangkok will be spared the flooding, few people seem to believe that anymore. It's pretty much common sentiment that all of Bangkok will be underwater within the next week to 10 days and, with the far northern areas of Don Mueang and Rangsit still under water after a week and a half, if flood waters reach the Silom and Sukhumvit areas of the city, that would mean all of Bangkok would then be under water.
Not much you can do really, except sit tight, relax and wait for the flood waters to recede. Sad news for Yingluck though. She's already working like crazy to try to solve the flooding problem. Now she'll have the floods to go home to as well.