Death of Uncle SMS Embarasses Thailand and Spotlights Its Lese Majeste Law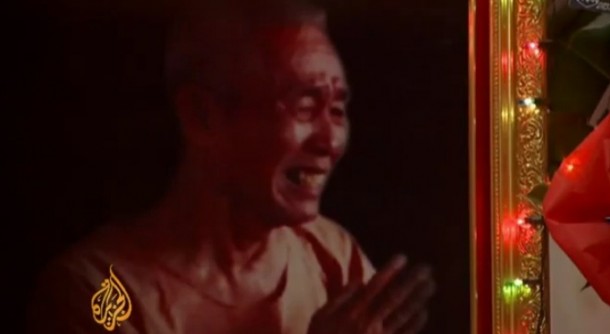 The death of Amphon Tangnoppakul, or 'Uncle SMS' as he was affectionately known by Thai supporters, in a Thai jail just six months into his 20-year sentence for alleged lese majeste offenses continues to embarrass Thailand internationally, and show how backward and anti basic human rights the country's lese majeste laws are.  In fact, if Thai officials think international attention is going to be turned away from Thailand's middle-ages-style lese majeste laws any time soon, they really must be fooling themselves.
As this report from Al Jazeera shows, the death of Amphon Tangnoppakul, a sick, old Thai man who wanted nothing but to be with his family is an embarrassment to Thailand and to its judicial system, and proves yet again that Thailand is not a free and democratic society.
The report also spotlights Yingluck Shinawatra's government and her refusal to amend Thailand's lese majeste laws. In fact, under Yingluck, there have been more arrests, more imprisonments, and more people found guilty. As many red shirts are now realizing, if they expected Yingluck to have the courage to do anything about the travesty of lese majeste in Thailand, they're going to be severely disappointed.
Meanwhile, Thailand continues to look Third World and backward, and some tourists and investors are avoiding the country like the plague because of it.