Expedia Launches Website in Thailand: Why Thais Should Not Book Through Them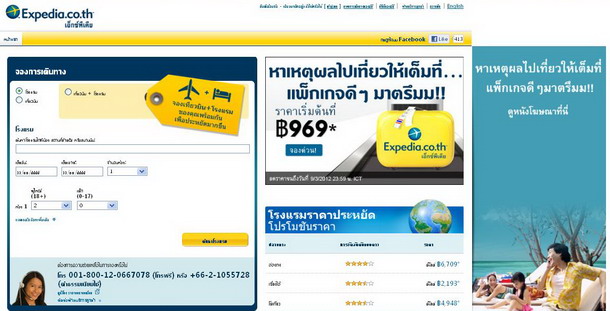 Expedia, one of the world's biggest online travel companies, launched a full-service website in the Thai language today, only its second Asian website after Singapore's launched last year. While it will probably make it convenient for some Thais, particularly those in business, to book flights on Expedia in the Thai language, overall Expedia is rarely a cost-effective choice, and is often a more expensive one. Expedia is also famous for its many scam practices, and bait and switch tactics so, no, Expedia is not a website Thais should book through.
In fact, during the decade I've lived in Thailand, I've run thousands of searches on Expedia looking for flights from Bangkok to places as far away as Kuala Lumpur, Singapore, Los Angeles, New York, London and Barcelona, and 90 percent of the time, my local travel agent in Bangkok could get me a cheaper fare and one that was often at a more convenient time too. My Thai travel agent didn't scam me either.
Basically what Expedia is trying to do, with this new Thai website, is to take business away from independent Thai travel agents, just like it has from thousands of American agents since the website was founded. It would be a shame to see thousands of Thai travel agents go out of business, just like thousands of American travel agents have.
Expedia is also is known for some pretty shady practices, with a French court fining it EUR 367,000 last year because of its "deceptive practices". What Expedia was doing, when France decided they'd had enough, was telling customers certain hotels were fully booked, and then diverting them to other hotels that were often much more expensive.
It would be a shame if Thais used Expedia, as it's proved itself to not be a company with good morals. In fact,, in a recent poll, 57 percent of people asked said they hated Expedia — because of its scam practices, refusal to send refunds, incorrect bookings, and a myriad of other complaints. There's even an "I Hate Expedia" Facebook page.
Expedia. Not a company Thais should book through. Not if they value Thai morals, Thai values, and keeping their money in Thailand.
(Visited 38 times, 1 visits today)