Former Thai PM Abhisit Vejjajiva Stripped of Military Title and Named a "Draft Dodger"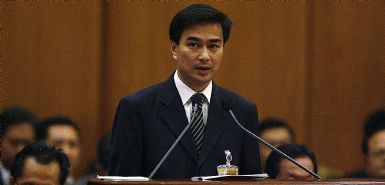 Maybe Thai former Prime Minister Abhisit Vejjajiva will shut up for a while now that he's been named a "draft dodger", stripped of his military title and ordered to pay back all military payments he has ever received. We can only hope.
After all Abhisit, he of the big mouth and constant harping on about former Prime Minister Thaksin Shinawatra's supposed corruptness, has now been shown to be a coward and a draft dodger, after a Thai defence department panel proved this week that he refused to show up when he was conscripted into the military. They also said, because of refusing to join the military, not asking for a deferral and using a fake military registration document to apply for a military teaching job "His teaching job at Chulachomklao Military Academy was wrongfully obtained."
Seems like it's the classic case of the pot calling the kettle black and Abhisit has finally been found out.
Of course, there will be the usual idiots saying Abhisit is being targeted by the Pheu Thai government. However, if you look at who actually chaired the military committee that ruled against Abhisit, you really would have to be a fool to think that was the case.
Members of the committee were Gen ML Prasopchai Kasemsant, Secretariat Department director-general Charn Komolhirun, Gen Chairat Cheerapant of the Judge Advocate General's Department, and Chulachomklao Royal Military Academy commander Lt Gen Popol Maneerin.
As for Abhisit, he hasn't even bothered to reply to the charges, even though the committee gave him two weeks to respond. When the charges first came to light, of course, he threatened to sue. Needless to say, nothing came of that supposed legal case either.
Now that's the sign of a man who is guilty as charged, and who knows it.