Iranian Bombs Himself in Bangkok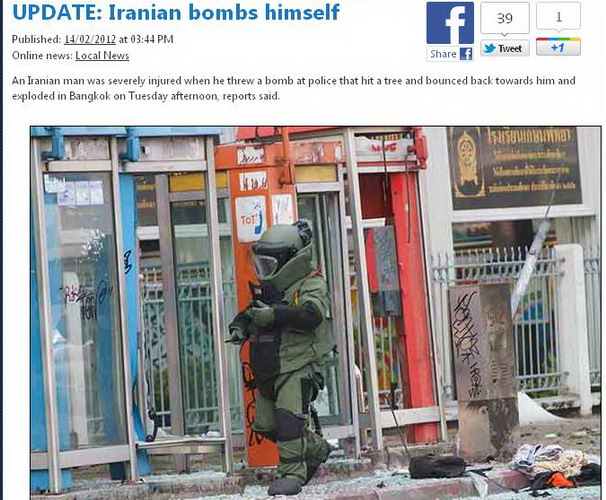 I do love reading the English-language newspapers in Bangkok because, even if the reporters are fluent in English, a lot of the phrases they use are either just not quite right, or are headlines or phrases a native English speaker probably wouldn't use. But, there are two funny examples of this in news reports of today's bombing in Bangkok by an inept Iranian bomber.
The Bangkok Post, in their headline, simply states "Iranian Bombs Himself" – direct and to the point (yep, he did manage to blow himself up) and really quite funny.
The Nation, meanwhile, in their story "Second Iranian detained" state
Police on Tuesday arrested an Iranian suspected of involving in the triple bomb blasts in Bangkok at Suvarnabhumi Airport as he was about to depart for Malaysia.

 

The suspect was identified as Mohammad Hazaei, 42. He was waiting for an Air Asia flight to to Kuala Lumpur.

The arrest was made after separate three bomb explosions hit Bangkok on the Valentine's Day.

Another Iranian; Saerb Morabi, was now treated at a hospital after an explosive fell from his hands to the ground, exploded and mutilated his legs.

Police claimed Saerb, Hazaei and the third Iranian still at large rented a house in Klongtan district allegedly to make bombs. On Tuesday morning, a bomb went off at their house, sending the three to flee.

The first two managed to escape while Saerb failed to get a taxi. He then threw the bomb at the taxi before running to a main road only to find police and throw a bomb at them.

The bomb however accidentally fell to the ground, went off and cut his legs.

 
It's The Nation journalists' abysmal English that always make their stories cute and funny to read and, nope, today was no exception.