Is All of Bangkok Going to Flood? Yes, It Looks Likely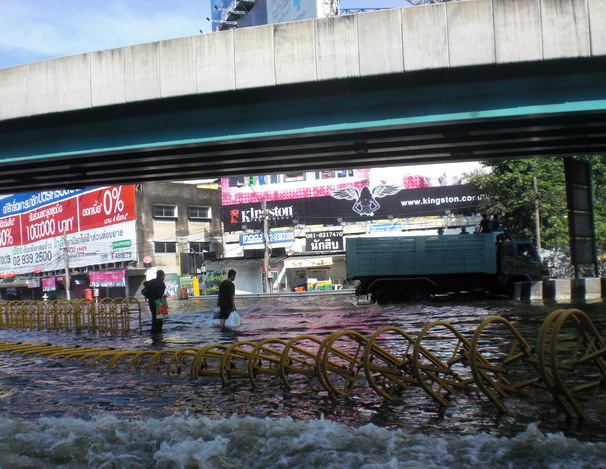 Although, of course, I'm no water expert I do know how to read and, thank heavens, was taught to have common sense. So, while no-one can really tell you for sure if all of Bangkok is going to be flooded, to many of us who live here, wade through the flood water every day, read the Thai English-language newspapers, follow Thai water experts, listen to conflicting government statements and on and on …….yes, at this point, it seems pretty likely all of Bangkok will soon be under water.
In fact, the situation has changed drastically in the last two weeks, since we reported chances were all 50 districts in Bangkok wouldn't flood. Now, with more water already in the city than the government had initially expected, yes, all of Bangkok is going to flood.
Currently, more than 25% of Bangkok, a city of more than 10 million people, is under water.  This amount increases daily as flood waters continue down towards the ocean and more of Bangkok's canals and waterways overflow.
In the last month and a half, the Thai government has done an admirable job trying to divert flood waters. But as industrial park after industrial park has been flooded, and northern Bangkok suburb after northern Bangkok suburb falls to the floods, it's becoming obvious even God himself/herself might have a problem stopping this.
The problem is, the amount of water is massive. With approximately one third of the flood water in the north now in Bangkok, according to Dr. Seri Suprathit, the only Thai water expert who seems to know what's going on, there's two times more water on its way than the city has already received. With canals already full to overflowing and most of northern Bangkok already under 1-1.5 meters of water, it doesn't even take a water expert to figure out, yes, all of Bangkok is going to flood. But, Dr. Seri has said it will now….. several times. And I for one believe him.
So, if you're visiting Bangkok and don't want to be caught in flood waters, leaving in the next few days is probably the right thing to do. Go to Chiang Mai, Phuket, Hua Hin, Chiang Rai, Koh Samet, Koh Samui ……any of hundreds of Thai cities that won't be affected by floods.
If you live in Bangkok, and plan on staying through the flooding as I have chosen to do, now is the time to stock up on water and food, toothpaste, soap, laundry detergent, garbage bags, and any number of other important items. At this point, it's not a case of if all of Bangkok will flood, but when. And the only way you'll manage to live through it comfortably and safely enough is to be prepared well in advance.
Dr. Seri and several other Thai experts say, when the water fully hits Bangkok, expect to be flooded for beetween three weeks to a month. That's the length of time it will take for flood waters to drain into the ocean, for the government to pump out what they can, and for the rest of it to dry up and go away.
Remember, one meter to possibly two meters of water could cover all of Bangkok. Are you prepared?