Is TV and Newspaper Reporting About Bangkok Floods Accurate? Of Course, Not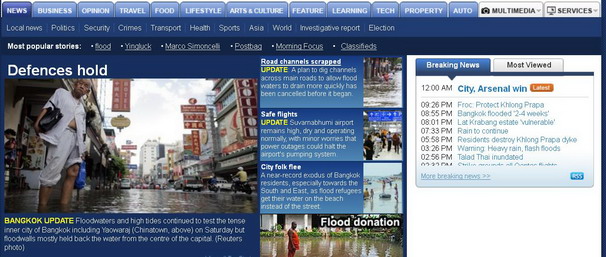 If you read Twitter, you realize quickly most people believe everything they see on TV and read in the newspapers about the floods in Bangkok. So much so that, some of them, even when the evidence is obviously to the contrary, they'll still keep spreading the incorrect information, publishing blog posts about it, and tweeting up a storm.
That's why Thailand's reporting of the Bangkok floods has been such an horrendous mess as both English newspapers, the Bangkok Post and the Nation, rush to print new stories that, if you have three brain cells, you can immediately tell are bogus. Then, of course, those incorrect Bangkok Post and Nation stories are e-mailed to friends, and tweeted and re-tweeted all over Twitter. It's a nightmare.
The problem with the reporting of the floods in Bangkok too, while many stories are being rushed to print without waiting for verification, many people in the Thai news media also have pretty poor writing skills in English. They do well in Thai but, when it comes to writing a story in English, they choose incorrect vocabulary (there's an enormous difference between 'wet' and 'inundated'), and suddenly a minor canal flood wall crack becomes the next Armageddon. It's gotten to a point where I just skim through the latest stories from both main Thai English-language newspapers and pick out the obviously correct facts and ignore the rest. So abysmal have some of their online stories been, I could have sworn my 12-year-old former students wrote them.
So, if you're looking for accurate information about Bangkok's floods, seriously? Chock dee ('Good luck' in Thai). Whether either coming from the government themselves or one of Thailand's English language newspapers, you've probably a 20% chance it's accurate. It's really pretty sad.
And just so you can see how bad some of the "reporting" is, I'll leave you with this gem from the Bangkok Post earlier today. Entitled "Residents Destroy Khlong Prapa Dyke" (will someone PLEASE tell that reporter what "destroy" means), it's truly abysmal:
A TV report said that some residents of flooded Wat Nawong, Khlong Hok, north of Don Mueang were so frustrated seeing rising water that they decided to destroy Khlong Prapa canal dyke with a mistaken belief that this could lessen the flood in their area. It did not.
Later the concerned authority and Pathum Thani MP came to convince them that it would not work and that Khlong Prapa is essential for producing tap water which they also rely on. Convinced, they stopped their action.
The authority is repairing the damaged dyke section. It should be finished next morning.
This foolish action makes Khlong Prapa water quality bad as all the rubbish and dirt in the area were swept into the canal.
No wonder this morning, the old reporter reported blackish water of Khlong Prapa at Chaengwattana Rd and the water level rose a little.