Letter from Thailand, April 15, 2008 – News, Songkran and a Ban on Military Clothing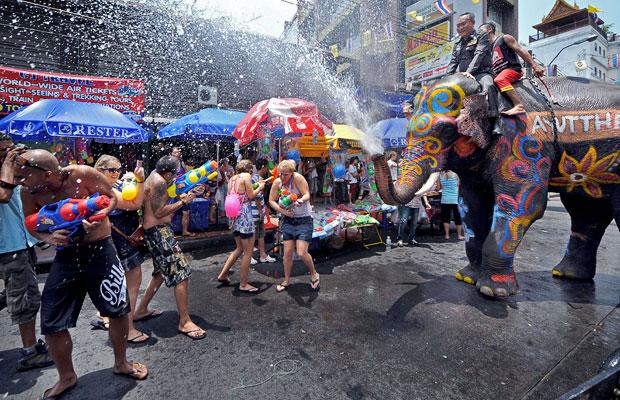 Dear Reader,
Greetings from Thailand.
Well, I started out in January with good intentions (as we all do when we make New Year's Resolutions) to write a weekly letter from Thailand.
As it's now the middle of April and this is only my third letter, you can see how well I do with New Year's Resolutions. Still, it's been an interesting week here in Thailand, so I felt it necessary to write another letter from Thailand. Hopefully, the gap between this one and the next one won't be too long.
The big event in Thailand this week is Songkran. This is the Thai New Year and is the biggest holiday in Thailand. Most businesses (other than shopping malls, restaurants and supermarkets) are closed from Monday thru Wednesday and many are closed for the week.
Everyone leaves Bangkok to go 'upcountry' (anywhere outside Bangkok, even to the south is called 'upcountry' by the Thais), and Bangkok becomes a ghost town. In fact, now is the best time to be in Bangkok. There are no traffic jams, the pollution is less and I can actually get a seat at my favorite coffee shop. The malls are still crowded though!
Thais celebrate Songkran (otherwise known as the Water Festival) by dousing people with water. This is supposed to bring you good luck. But, what in the past was a simple festival with a few sprinkles of water thrown, Songkran is now a massive water fight with huge water pistols.
Cars are sprayed as they pass, people chuck water at passing motorbikes (very dangerous and many people are killed every year because of it) and if you're in the 'water fight' areas, you will get soaked. It's all in good fun though and is an amazing chance to experience Thai culture and have a great time.
The best place to go for Songkran is Chiang Mai. Everyone flocks there as it has the largest Water Festival. There are lots of parades and floats from the temples, huge water fights followed by great food and lots of drinking. You will be wet through from head to foot for at least 4 days if you go to Chiang Mai, but it's so darn hot that it's actually great to be wet. The most fun I've ever had in Thailand was Songkran in Chiang Mai three years ago, and I'd recommend it to anyone.
For silly things in Thailand, you really can't beat these.
The Thai government has now banned civilians from wearing any clothes that look like military clothes, so there go your camouflage pants.
Apparently, if you wear camouflage you might be a terrorist (yep, those Muslim terrorists down south always swear camouflage when they come up to Bangkok to plant bombs), so you'd better beware. Fines and warnings are being handed out, but jail time of three months to five years is also a possibility.
In Nakhon Si Thammarat, a woman disappeared from her home last year and was never seen again. At her funeral at the end of March, the woman Duangkae Sudchoo suddenly reappeared. Guests and monks left the funeral quickly fearing she was a ghost.
Only when she spoke to relatives and friends and convinced them she was still alive was calm reestablished. Problem is, nobody knows yet whose body it is that they were about to cremate. The woman even had a scar on her wrist which was similar to the scar of Khun Duangkae.
Finally, in some good news, the Burmese truck driver who smuggled more than 100 Burmese migrant workers into Thailand from Burma has given himself up. The migrant workers were smuggled into Thailand in a cold storage truck but, tragically, were left at the side of the road after the driver, Suchon Boonplong, realized that 54 men and women had died from suffocation.
He finally gave himself up after he realized that the higher-ups in his operation might just kill him to avoid him spilling the beans.
That's all for this week. Have a great week and Sawatdii pii mai (Thai language for 'Happy New Year')
Sawatdee kha from Thailand.