Letter From Thailand – December 21st, 2008 –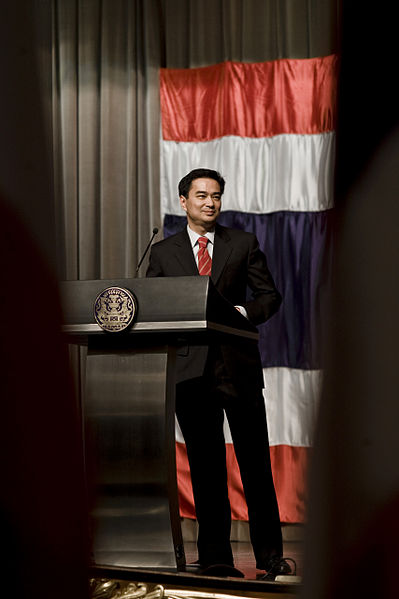 Dear Reader,
Sawatdee kha from Bangkok, Thailand.
Well, things have been looking up this week in Bangkok, Thailand. On Monday, Abhisit Vejjajiva was elected as Thailand's new Prime Minister, and given royal approval by the King of Thailand on Wednesday. Khun Abhisit is the leader of the Democrat Party and was elected by a slim margin, with the hope he will be able to put together a coalition government.
The Democrat Party was one of the opposition parties to the government that was just kicked out of office three weeks ago by Thailand's Constitutional Court. Khun Abhisit, at age 44, is also one of the youngest Prime Minister's Thailand has ever had. But being smart (educated at Eton and Oxford University), speaking fluent English, and having 20 years of political experience, he may be better than the other guys we've recently had. A new day is dawning in Thailand and let's hope it's a good one.
Thailand isn't known for doing very well in sports, but this week has been a bumper week in sports for Thailand. They've just advanced to the Asean Cup Final, having defeated Indonesia in the semi-finals. They'll play either Singapore or Vietnam, who will be playing their semi-final game today (Sunday).
Two Thais are also two of the five players tied for the lead in the Masters of Asia golf tournament. Singapore, Australia and the Philippines also have players in the top five. Hopefully, Thailand will win one, or both, of these as sports victories are few and far between for Thai sports figures usually.
In tourism news, 24 boutique hotel owners and a group of travel agents have started a new campaign 'One Price All Destinations' in an attempt to get tourists to come back to the Kingdom. Boutique hotels are always the first to suffer when the tourism industry in Thailand is struggling. This group is being pro-active, which is wonderful, and are also offering a really great package.
For only 2,000 baht a night (around $57) at any of these hotels, you get accommodation, breakfast and dinner, and all airport transfers. As these hotels normally charge 4,000 to 6,000 baht a night, it's an amazing deal.
Hotels are in Bangkok, Chiang Mai, Phuket, Hua Hin, Pran Buri, Krabi, Chumpon, Chiang Rai, Samui, Sukhothai, and Koh Phangan. Check out Tourism Authority of Thailand's website for information on this and other great deals.
Air Asia, Bangkok Airways and Thai Airways are also running amazing promotional deals. Air Asia was giving away 100,000 flights this week and Bangkok Airways and Thai Airways were slashing prices by up to 50% in an effort to get more people to fly.
One of my friends and I managed to grab two of the free flights from Chiang Mai to Bangkok. We had to pay for the flight up to Chiang Mai, but the total round-trip came out to only $45 per person, for a trip that's normally $110. We're spending three days in Chiang Mai in March, and will probably get some great hotel deals too!
Christmas is this week and I'm heading to The Londoner for Christmas dinner with three friends. The Londoner is one of the best British pubs in Bangkok and serves an absolutely scrumptious five course British Christmas dinner for about $35. A smashing deal.
With that in mind, Merry Christmas to all my readers. I hope you and yours have a lovely one.
Sawatdee kha from Bangkok, Thailand.