Letter from Thailand, November 15th, 2008 – Princess Galyani's Funeral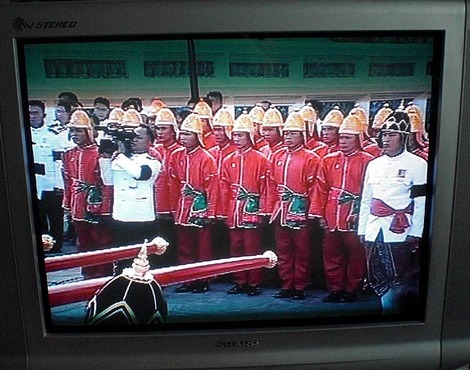 Dear Reader,
Sawatdee kha from Bangkok, Thailand.
This weekend is the Royal Funeral of Princess Galyani Vadhana. She was the King of Thailand's beloved oldest sister and died on January 2nd, 2008. Her body has been lying in state for the past 10 1/2 months, but will be cremated today, November 15, 2008.
There will be six processions held over the next two days for various functions of Princess Galyani's funeral. Three processions will be held today, Saturday, and three processions tomorrow. During the processions, the very distinct high-pitched Thai flute music will be heard. Everything is televised, which is very interesting from a Western perspective, as there will be around 12 hours of live television of the events both Saturday and Sunday.
The televised events are also shown in English as well as Thai, so it's extremely interesting to watch the events as all the traditions are explained. Seeing all the brightly colored uniforms and traditional costumes of the participants in the processions, and all the elaborate ceremonies, it is at times like this you realize what a completely different culture Thailand has than Western cultures.
I am currently watching the first procession on Thai television. This procession transfers the royal urn of the Princess Galyani to another place in Bangkok, on her way to the cremation ceremony, which will be held later today. The 'urn' is actually a large golden urn on a stand, standing more than seven feet tall. It's elaborately designed, carried by about sixty Thai soldiers wearing bright orange jackets and golden yellow helmets. The urn is covered by a seven-tiered white umbrella of state. The umbrella was bestowed on the Princess by her brother, the King, in honor of her work on behalf of the poor in Thailand.
Everyone in Thailand is wearing black from yesterday, Friday, until Sunday evening in mourning for Princess Galyani.
In other Thai news, exiled Prime Minister Thaksin Shinawatra has announced his divorce from his wife Khunying Potjaman. As they have been married for 32 years, it's highly unlikely that they are 'divorcing'. The main reason is more than likely that most of Thaksin's money and property is in his wife's name. So, if they are divorced, it will be much more difficult for the government or private individuals to go after Thaksin's money, now that he has been convicted of conflict of interest charges (basically corruption). This also shows what is and has been most important in Thaksin's life – money!
Political instability still, unfortunately, remains in Thailand. Neither the government nor the anti-government group, the PAD, are backing down, although the PAD were moved from the place they have been demonstrating during the last three months due to the funeral of the Princess. Many Thais hope the funeral of the Princess will bring the country together, but I doubt that is very likely.
Farewell from Thailand for this week, with my commiseration to the King of Thailand for the loss of his beloved sister.
Sawatdee Kha.