Mass Protest Planned in Bangkok – 1 Million People and 20,000 Monks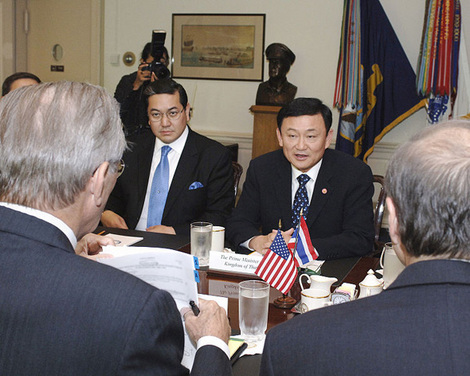 With things possibly getting worse in Thailand in the next week, tourists may want to consider staying away from Bangkok, the Thai capital, and vacationing in other parts of the country instead. In Bangkok, the anti-government red shirts (the group, United Front for Democracy against Dictatorship (UDD) are planning an enormous rally against the present Thai government of Prime Minister Abhisit Vejjajiva, beginning on Friday, March 12, 2010 and running for three days.
The rally has been in the planning stages for several weeks and red shirt leaders have announced they expect one million red shirt supporters to descend on the Thai capital from villages all over Thailand. 20,000 Buddhist monks are also purported to be joining the rally.
The 'red shirts' are members of a group of Thais who support deposed and now-exiled ex-Prime Minister Thaksin Shinawatra. The group believes the current government of Prime Minister Abhisit Vejjajiva is an illegal government as it was not put into power in a legal election. Red shirt anger grew last week when the Thai Supreme Court announced the seizure of Mr. Thaksin's assets (around US$1.4 billion) due to their ruling Mr. Thaksin abused his power while prime minister and thus made the money illegally.
For poor Thailand, desperate to appeal to tourists to come back to the Land of Smiles, this current demonstration is likely to frighten tourists away. The last time the red shirts demonstrated, during Thai New Year, Songkran, in April, 2009, Bangkok came to a standstill while almost every business was closed, people stayed inside locked in their homes and the Thai miiitary and red shirts roamed the streets engaged in pitched battle. Three people were killed.
The government of Prime Minister Abhisit Vejjajiva has announced no leniency will be taken with the red shirts and their planned rally this time. However, if 20,000 monks join the demonstration, many Thais believe this will severely limit what the Thai government and the military are able to do to stop the protests.
In this devout Buddhist nation, any chance of Buddhist monks being injured or killed will be met with opposition from both sides and, some Thais think, could ultimately end up in a civil war if things were to go tragically wrong.
Stay tuned for daily updates as this situation plays out. Needless to say, for any worried tourists already in Thailand or planning on being here soon, as yet, there's no need to cancel your trip. Red shirt protests last time didn't affect tourists in the country, particularly if they stayed away from the affected areas.
Just make sure, if in Bangkok, you stay away from the main protest areas (The Grand Palace area of Bangkok) or, even better, avoid the capital and head to Phuket, Chiang Mai, Chiang Ray or one of the Thai islands.