Massive Bangkok Red Shirt Protest Starts: More Than 100,000 People Take to the Streets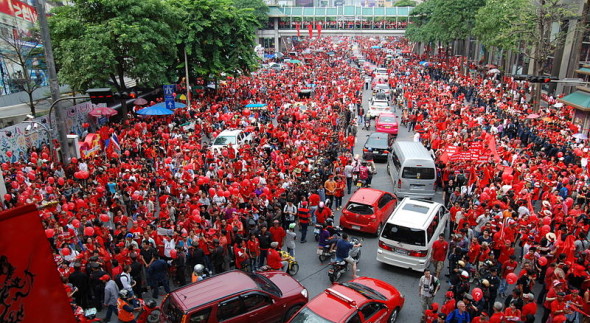 The planned red shirt (UDD) 46 kilometer march through Bangkok has begun. At 10am sharp, tens of thousands of red shirt protesters set off from Phan Fah Bridge in Bangkok, to march through Bangkok in an effort to bring a 'class war' to the city.
Traffic is already at a standstill in several major areas of the city and, as the march is set to continue until 6pm, it's predicted to get much worse before the day is over. The march has already reached the Pratunam area, tying up traffic, with red shirts handing out flyers to those watching the parade to apologize for causing traffic problems.
The march is headed by thousands of red-shirted motorcycle riders, followed by truck after truck after truck loaded with red shirts waving red banners and Thai flags. Private cars are also in the procession as are the famous Thai samlaors (open-sided taxi trucks) and even tuk-tuks.
The red shirt plan is to bring the city to an absolute standstill to show the government that the red shirt (UDD) movement has power and will stop at nothing to overthrow the unelected-Prime Minister, Abhisist Vejjajiva. With shouts of "Abhisit ork bpa" (Abhisit get out!), the red shirts will parade through Bangkok for the rest of the day.
Most Bangkokians are staying at home, not out of fear as the march is perfectly peaceful, but out of not wanting to sit in enormous traffic jams for half of the day.
The government has also asked people to stay at home as they are concerned Bangkokians will either join the red shirt parade (there's a lot of support for the red shirts in Bangkok) or hurl abuse at them, thus causing problems that could lead to violence.
If you are a tourist currently in Bangkok, stay away from the red shirt protest areas (unless of course you want some great photos and to experience a real Thai demonstration) and have fun around your general neighborhood in Bangkok instead.
(Visited 59 times, 1 visits today)