Massive Red Shirt Rally Today Commemorating 1-Year Anniversary of Shootings at Ratchprasong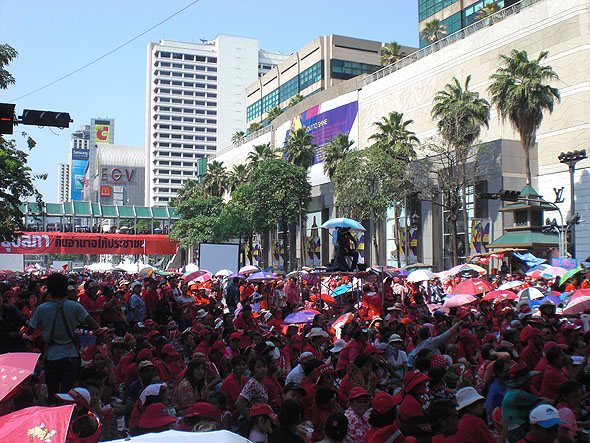 Tens of thousands of red shirt protesters and their supporters are expected at a massive rally at Ratchprasong today, to commemorate the deaths of more than 90 red shirt protesters who were shot by government soldiers on this day last year during the May 19th crackdown.
Many were shot in a temple, close to Central World Plaza, after they had sheltered there when they were told by the government it was 'safe'. One was a 25 year old volunteer nurse, whose mother is now suing the government for wrongful death.
A year after the crackdown, 130 red shirt protesters still remain behind bars, with bail requests denied by Thai courts but no actual trial forthcoming any time soon. Against every international human right, of course.
No government official has yet been charged with the human rights abusers against political protesters.
Human Rights Watch, a world-wide international human rights monitor has asked the Thai government to investigate abuses connected to political violence but, so far, there has been no response from the government of Abhisit Vejjajiva.
Surprising? Not really.
Human rights abuses have continued under Abhisit's government, just as they have under every other Thai government. A fact Thailand should be ashamed of, and one that is destined to keep them in the Third World category for many years to come.
Thailand: Investigate Abuses Connected to Political Violence