Pattaya Police Arrest Foreign 'Swingers": No Kickback Money Paid?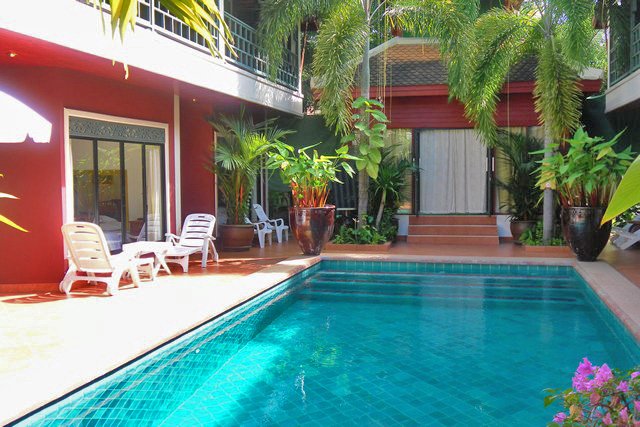 According to The Bangkok Post, Pattaya police have raided a resort in the Bang Lamung district of town and arrested at least 20 foreigners and Thais who were involved in a 'swingers' party. ThePattaya swingers party was being operated by a Dutchman and a Thai woman, who were charging participants a membership fee to have sex at the Rama Kien resort (which looks beautiful, by the way) and, if they wanted to, with multiple partners. The two were charged with 'providing an indecent or immoral service'. Welcome to Thai hypocrisy in action.
Thailand, known internationally as the sex trade capital of the world, offers sex for money in tens of thousands of areas around the country. The prostitute areas in Bangkok specifically for tourists are right out in the open and anyone can walk through them — Patpong, Soi Cowboy, Nana etc — but there are tens of thousands more in Thailand hidden away and specifically for Thai or Japanese men. Many are operated by influential Thais, some allegedly even in positions in the government or police, and most pay kickbacks to the Thai police to stay open.
Most of the time, however, when you see a newspaper report about a brothel or sex resort being raided by Thai police, it's usually because they haven't paid a kickback to Thai police so the police shut them down, or they are operated by foreigners (who also haven't paid the right kickback to the right police officer).
As anyone will tell you, hypocrisy in Thailand when it comes to what foreigners are arrested for and what Thais are arrested for are two entirely different things. A Thai can operate 20 illegal brothels, be hiring several hundred bar girls or prostitutes and definitely be 'providing an indecent or immoral service' but as long as a) he's Thai and b) he's paying boatloads of money to Thai police, he'll have no problems at all.
What's even worse is the police who arrested these swingers are possibly part of the Anti-Human Trafficking Division. In Thailand it seems, if you're a Rohingya refugee, police who are supposed to be trying to stop people trafficking can arrest you and then sell you to traffickers to make money for themselves. If you're operating a swingers party, however, attended by consenting adults, you'll soon find yourself in a Thai jail.
Hilarious. If it wasn't so sad and such an indication of how poor Thailand's reputation is with both foreigners living or visiting the country and others who have never even set foot in Thailand but know all about its reputation as a sex trade capital and a center for people trafficking.
As they say in Thailand "No money (for police). No honey".
By the way, if you want to see Thai corrupt police in action, this video was posted on YouTube by Chuvit Kamolvisit, a very famous Thai politician who has admitted he had to pay bribes to police for decades in order to be able to operate his brothels. He's now in parliament under an anti-corruption agenda.
The video was a 'sting' targeted at police and not by them, as the taxi driver knew where Thai police in Bangkok usually wait to stop motorists and get bribes. So he did an illegal u-turn so a typical Thai police kickback could be recorded on camera.
Hopefully one day this type of police corruption in Thailand will end. It really is an amazing country with so much to offer, yet things like police corruption and human trafficking will continue to make international news more than anything else as long as they seem to happen in Thailand on such a large scale. And yes, that's sad.