Pheu Thai Party MP Karun Hosakul Gets Kicked in the Backside by Democrat Spokeswoman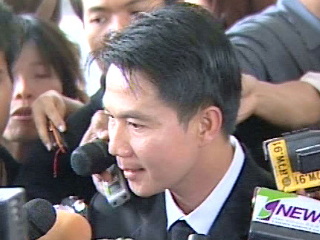 You have to laugh at the bickering between the governing Pheu Thai party and the Democrats. They snipe and complain and lob insults at each other, every day, even during the worst floods Bangkok has seen in half a century. So, it's probably not surprising that it finally came to blows this week when Pheu Thai MP, Karun Hosakul, got kicked in the backside by Democrat spokeswoman, Malika Boonmeetrakul.
Apparently the two were at a meeting on November 19th, had words, and Karun Hosakul called the woman a "buffalo" (Kwai), a traditional Thai insult.  Malika Boonmeetrakul responded by kicking him in the backside. She then said Mr. Hosakul attacked her first "with his bottom".
Of course the video of the incident, which doesn't even show that much, has gone viral on YouTube.
Some would say, it does again show the Democrats propensity for violence. When things are said that they don't like, words are never enough. At least this time though it was only a foot and not a gun.
But Karun Hosakul is no angel either. Back in 2008, when he was a member of the People Power Party, Mr. Hosakul kung-fu kicked Democrat Somkiart Pongpaiboon because he disagreed with something he said, he once headbutted an undercover policeman, and he was even seen slapping and pulling the hair of his ex-wife at Don Mueang Airport. Airport security guards had to pull him off her.