Raid on Red Shirt Leaders By Thai Government a Hilarious Farce: Two High-Ranking Police Officers Taken Hostage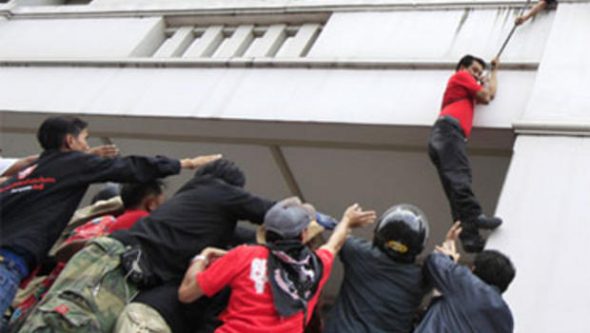 I am enjoying Thailand's latest political problems so much – it's a laugh a minute. But today's debaucle by Thai police and the Abhisit government really took the cake. I've never laughed so hard in my life.
On TV early in the morning, one of Prime Minister Abhisit's spokespeople announced that the police have a Bangkok hotel surrounded. Red shirt leaders are staying there and all will be arrested.
A few minutes later, CNN and BBC are showing video footage of one of the red shirt leaders, overweight Arisman Pongruangrong, shinning down a rope at the back of the hotel to evade police. Hundreds of red shirt protesters are waiting at the bottom of the rope.
They grab Arisman, with police standing watching, and whisk him away in a waiting vehicle. They also take hostage two high-level police officers from the hotel to the Rajprasong rally site to "guarantee" the escapees' safe return.
By noon, Arisman is on stage at Rajprasong in front of tens of thousands of red shirt protesters with all the other red shirt leaders, who have also escaped the police.
Talk about a 'red face' for Abhisit and the numbnuts that run the current Thai government. You have got to laugh. I mean how do these people manage to get dressed in the morning?
First of all, only someone who is very naive announces a raid before it has taken place (don't they know, hotels rooms have TVs?).
Secondly, you do not send in the keystone cops to do a man's job.
Third, check the police you send in are actually on your side and not on side of the red shirts. And fourth, don't trust the hotel staff – some are red shirt supporters and they will warn the guys you are coming for that you are on your way.
Amazing Thailand. It just gets funnier. Let's just say, I have never enjoyed a news story as much!