Sondhi Given 20 Years in Prison: Karma Really Does Bite You in the A*s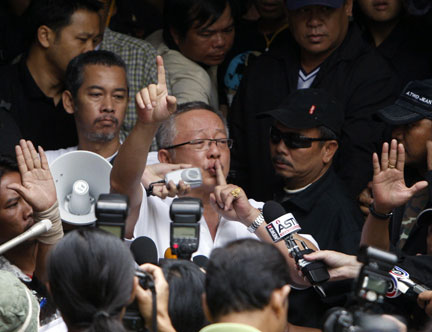 Sondhi Limthongkul, the co-leader of the People's Alliance for Democracy (PAD), and one of those who led the PAD to close down all Thailand's airports and to devastate Thailand's tourism industry, has been sentenced to 20 years in jail without parole for violating the Securities and Exchange Act.
Som nam naa, as the Thais say. "Serves you right".
Known simply as Sondhi by Thais, Limthongkul was also one of those who organized massive protests against elected prime minister Thaksin Shinawatra in 2005-2006. Those protests resulted in the Thai military launching the 19th coup in Thailand's long history of coups, and overthrowing Thaksin.
Thaksin, however, must be howling laughing at Sondhi's now-demise.
After all, Thaksin himself was only given a two-year jail term for the supposed illegal sale of shares in his company. He also hasn't spent a day in jail in Thailand as, believing the charges were unjust and trumped up, he just didn't bother coming back to Thailand after a trip to China for the Beijing Olympics.
Sondhi meanwhile has been given a 20-year sentence with no right to parole, after he pleaded guilty to falsifying documents Those documents allowed a company he held shares in, and was a board member of, to get a 1.1 billion baht loan ($36 million) from Krung Thai bank.
The court found him guilty on 17 charges.
Interestingly, Sondhi was given bail of 10 million baht ($330,000) this afternoon, as he will be appealing his case. My question is, how do you appeal a case when you have plead guilty, and been found guilty? What possible logic is there in that?
Rumor in Thailand has it too that Sondhi originally went after Thaksin Shinawatra when he was prime minister and helped cause the 2006 coup, not because of "love for his country" as he insists it was, but because Thaksin refused to help him cover up his shady business dealings.
And yes, he did manage to get Thaksin kicked out of office and forced to live in exile overseas. However, as the Thais believe in karma, it looks like Sondhi's karma just came back and bit him in the ass.