Suthep and PDRC Destroying Thai Economy: Singapore Airlines Canceling Flights to Bangkok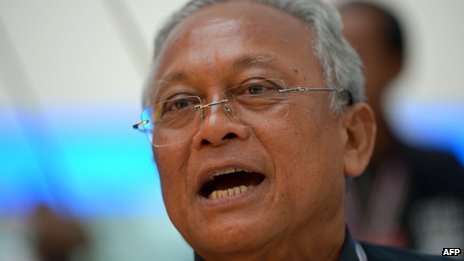 Suthep Thaugsuban and the PDRC destroying Thailand's economy
Former Thai MP Suthep Thaugsuban and the PDRC, the political party he now heads, are destroying Thailand's economy and it's likely to get a lot worse in the coming days. With companies all over the world stopping employees from traveling to Thailand for business because of Suthep and the PDRC's mass anti-government demonstrations, and tourists also canceling vacations, Singapore Airlines has just announced they are canceling 19 flights from Singapore to Bangkok due to the PDRC's protests.
Canceled flights will mean less money for Suvarnabhumi Airport, less people coming to Thailand for holidays, and less coming to Thailand for business. All of this translates into yet more damage to the Thai economy.
According to the Straits Times, Singapore Airlines' flight cancellations will start the middle of January and carry on through at least early February. Other airlines are also likely to follow suit.
That Suthep and the PDRC are destroying the Thai economy shouldn't be surprising to anyone. After all, these are the same people who, under the name of the 'Yellow Shirts' or the People's Alliance for Democracy (don't let the name fool you – these people have NO interest in a real democracy in Thailand), closed down all of Thailand's major airports in 2008 for almost two weeks, seriously damaging Thailand's tourist industry.
That they are going to do it again with their so-called 'Bangkok Shutdown' next week, a take-over of 20 major intersections in Bangkok in an attempt to overthrow Yingluck Shinawatra's democratically-elected government, proves once and for all these people have no love for Thailand.
If they did, they wouldn't be doing everything they can to destroy Thailand's economy and Thailand's reputation overseas just because they don't like the current elected Thai government.
So, why are they doing it?
Nothing more than sour grapes. Suthep and the Democrat Party, the party he was an MP for up until a few weeks ago, couldn't get elected in Thailand if they were the last political party in the country. And what do losers like Suthep Thaugsuban do when they continue to be losers? They go after the winners with every devious, dirty, nasty and despicable means possible. In this case, that means organizing anti-government demonstrations in an attempt to cripple Bangkok and, thus, the Thai economy.
That's Suthep Thaugsuban and the PDRC – nasty little losers who, in their attempt to overthrow a democratically-elected government, will also cause Thailand to lose. And, frankly, they don't care. Sad, isn't it?
Meanwhile, if you are planning to travel to Thailand during Suthep Thaugsuban's 'Bangkok Shutdown', why not do so anyway? Show these losers that you will not be intimidated, that you will spend money in Thailand, and that Thailand deserves to be a real democracy, and not one that is taken over by fascists like Suthep Thaugsuban and the PDRC every time they lose.
As for me? I'll be out doing my normal daily things when Suthep's 'Bangkok Shutdown' is going on, because if this nasty little loser thinks he can cause me to not live my life as I normally would he has another think coming.
If you believe in a real democracy, and not the fascist 'democracy' Suthep has in mind, hopefully you will be doing the same.