Thai Banks Increase ATM Fee to 180 Baht: Being Ripped Off Again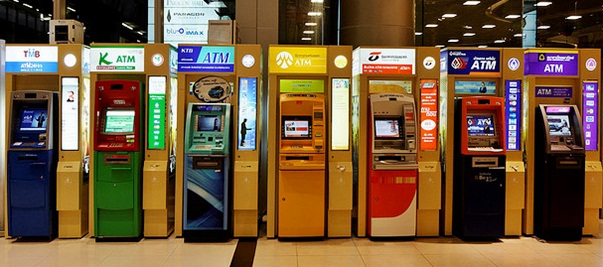 I have to say I'm getting a little tired of being ripped off by Thai banks. So, yesterday, when I withdrew money from my bank account in the US using an ATM at Krungthai Bank, I was surprised to see the usual 150 baht per transaction charge has been increased. It now seems, if your ATM card has a Mastercard logo on it, Krungthai Bank has increased their fee to 180 baht per ATM transaction.
That's an increase of $1 per transaction and, yes, a blatant rip-off.
When did the ATM fee increase to 180 baht?
According to Krungthai, the ATM fee increased to 180 baht on May 17th, 2013.
Krungthai Bank, however, isn't the only Thai bank that has increased their ATM fees for Mastercard ATM card. Bangkok Bank is also charging the same 180 baht fee and, I'm sure, others are as well.
Don't expect the 180 baht ATM fee in Thailand just to remain on Mastercard ATM cards either, as that will surely change soon. After all, if past behavior is anything to go by, Thai banks will rip-off every customer they can in high ATM card fees, regardless whether it's a Mastercard or Visa ATM card you're using.
So, what can you do to avoid paying the 180 baht ATM fee in Thailand?
Some people suggest using Aeon ATM machines but my experience with them has not been very good. Their ATM machines either don't work at all or, even if they don't charge a 150 baht fee, their exchange rate is lower than Krungthai or Bangkok Bank, which means you end up paying the same as you would at Krungthai, Bangkok Bank or Siam Commercial anyway.
That's why my suggestion is to make sure you organize your finances every month so you end up making less ATM withdrawals, if you need to withdraw money in Thailand from a foreign bank.That way you pay a lower number of monthly ATM fees to a Thai bank.
For instance, I normally make three withdrawals every month. Now this new 180 baht fee has gone into effect, I'll be making sure I only do one withdrawal a month.
That means, instead of paying my usual 450 baht per month fees, I will now only be paying 180 baht. That way, the rip-off Thai bank loses, and I win. See. Sorted.
(Visited 125 times, 1 visits today)