Thai Prime Minister, Yingluck, to Face No-Confidence Vote on Wednesday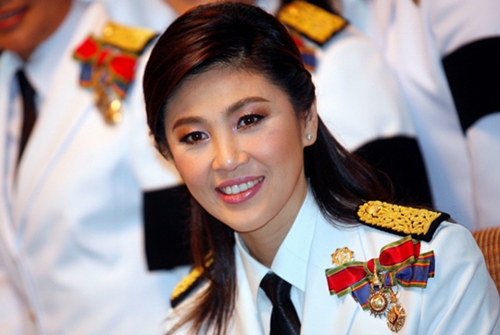 Is anyone else as tired of the Thai Democrat Party as I am? A political party that can't win an election fairly because most Thais don't want them in office, they've resorted to lies, threats, ridiculous court cases and now a no-confidence vote against Thai Prime Minister Yingluck Shinawatra to try to get the Pheu Thai party out of office. Face it Democrats — hardly anyone in Thailand wants you. Give it up!
As per usual former prime minister, Abhisit Vejjajiva, him of the big mouth that never stops talking, will be behind this latest move against Yingluck. He's not content to be shown as a liar and a coward, when his military titles were stripped from him after it was proved he illegally avoided military service when he was younger, but he's still trying his shady tactics to unseat Pheu Thai and Yingluck Shinwatra, this time with a no-confidence vote.
As Professor Pitch Pongsawat, a professor of political science at Bangkok's Chulalongkorn University said, "They can't get rid of Pheu Thai through democratic means, so they are trying technical means."
Of course, the Democrat-forced no-confidence vote against Yingluck has no chance of success, particularly as her Pheu Thai party holds almost 300 of the 500 parliamentary seats. The vast majority of Thailand voted for her also, and will continue to vote for the Pheu Thai party in the future regardless of what Abhisit and his ilk want.
All I can say is let's hope Pheu Thai are successful in legally getting rid of Abhisit and the rest of his nasty co-horts soon. After all, now that Abhisit's military titles have been taken away and he's been ordered to return all the money he was paid while working for a military-affiliated university, it would seem to me a liar and a coward should not be allowed to be a member of parliament either.
Meanwhile, the no-confidence vote scheduled for Wednesday will waste yet more time of Thai MPs who could be spending it doing something productive for Thailand instead of asking "how high?" every time idiot Abhisit and the Democrats say "jump".