Thailand Gets First Female Prime Minister? Looks Like Yingluck Shinawatra Wins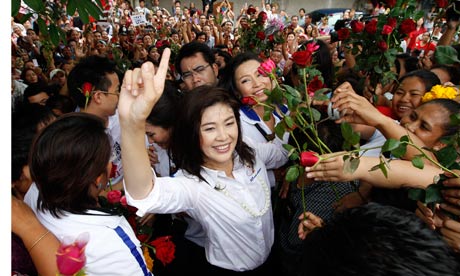 With almost 50% of the vote in Thailand's general election counted, the Pheu Thai party with their prime ministerial candidate Yingluck Shinawatra, sister of illegally ousted PM Thaksin Shinawatra, seem to be the outright winners. The only thing that needs to be answered now is, will it be a landslide as exit polls suggested, or simply a simple majority? (Pheu Thai needs 250 seats to win a simple majority, and they're currently on track with a projected 255).
Either way, Pheu Thai is already saying it will be a 'coalition government' between Pheu Thai and several smaller parties, with Yingluck Shinawatra as the first female prime minister of Thailand.
While this may seem odd in most developed countries as, whoever wins an outright majority usually governs, this move by Pheu Thai is actually quite politically savvy.
The Democrats, the party just kicked out of office, have intimated all along they may try to create a coalition so they could remain in power.
Pheu Thai seems to have taken that veiled threat to heart and are making sure if there is to be a coalition government, they will be the ones heading it.
One smaller party,  Chat Pattana Puea Pandin, announced an hour ago they will be happy to create a coalition government with Pheu Thai and several other parties are expected to fall in line soon.
Meanwhile, Yingluck Shinawatra will likely be Thailand's first female prime minister, a fact highly welcomed by a very large percentage of the country.