Thailand's Securities and Exchange Commission Says Yingluck Shinawatra Did Not Break the Law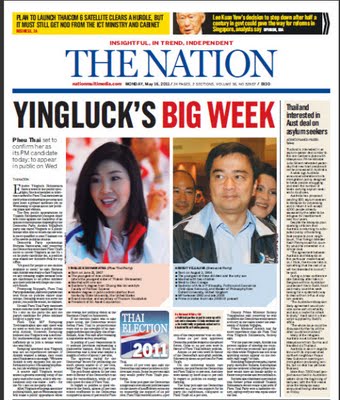 In an announcement today, Thailand's Securities and Exchange Commission (SEC) says their investigation is final and that Yingluck Shinawatra, Pheu Thais' prime minister candidate for July's general election, did not break the law. This after supporters of the current prime minister, Abhisit Vejjajiva, insisted the SEC take action against Yingluck for supposed irregularities.
Yingluck Shinawatra is the youngest sister of deposed Thai prime minister, Thaksin Shinawatra, who was illegally removed from office after a military coup. Yingluck herself is now running for the prime minister position as a representative of the Pheu Thai party, mainly made up of Thaksin Shinawatra supporters. From recent polls, she's expected to win.
Anti-Thaksin forces wanted Yingluck to be prosecuted saying she had failed to report her shareholding of Shin Corporation as well as being suspected of helping her brother hold onto shares illegally.  But the SEC says Yingluck owns less than 5% of the shares of Shin Corp and, in that regard, by not reporting she's not breaking the law.
In fact, things just keep getting better for Yingluck. Not only has she skyrocketed to the position of Thailand's most popular candidate, she's shoving Abhisit aside without even trying.
I was standing at a fruit stall the other day on Pahonyothin near Major Ratchayothin when a band of Abhisit youth came by with placards, and tried to hand out flyers pushing their candidate. I was surprised at how many people either refused to take them or took them then screwed them up and threw them in a trash can the minute the merry little band had walked by.
Photo – It looks like Yingluck's Big Week could turn into Yingluck's Big Year. Let's hope so.