Thaksin Returning to Thailand Over Songkran Holidays From Laos?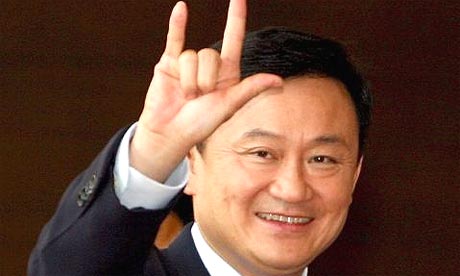 According to the Bangkok Post, a red shirt leader, Kwanchai Praipana, is saying he will be bringing Thaksin Shinawatra, ousted prime minister of Thailand, back to Thailand over the Songkran holidays. The plan is for Thaksin to return to Thailand across the Thai-Lao Friendship Bridge in Nong Khai after he has finished celebrating Songkran in Laos. Mr. Kwanchai says 50,000 Thai supporters will be there to greet him.
Thaksin himself however says he's never heard of any such plan and has no intention of returning to Thailand over Songkran, saying Mr. Kwanchai had just gotten carried away by a plan in his own head.
Another red shirt leader, Korkaew Pikulthong, however said it should be remembered that, if Thaksin was to return to Thailand, he could be arrested as he was convicted of abuse of authority in relation to a land deal. A conviction many in Thailand believe should never have happened and that just showed even more abuse of power by anti-Thaksin forces.
Oddly though, I wonder if Thaksin ever would be arrested if he returned to Thailand? The last time he came back, in 2008, his arrival at the airport was shown live on national TV in Thailand, with tens of thousands of Thai supporters there to meet him. At the time, it was relatively uneventful as he hadn't been convicted of anything.. Now that he's been convicted of a crime, however, I doubt supporters in Thailand would be too willing to let him get arrested, especially as most believe the conviction to be a farce.
In fact, a Thaksin arrest in Thailand could cause outright political upheaval, with mass demonstrations in the streets and some parts of Bangkok ablaze. After all, the red shirt supporters of Thaksin showed back in 2010 that they're not willing to be the silent, downtrodden masses anymore, and they'd probably fight if Thaksin were arrested.
Maybe that's why so many people high up in Thai society don't want Thaksin to return to Thailand. He'd probably be prime minister again in no time.
Meanwhile, the video below shows Thaksin the last time he returned to Thailand from exile. With the crowds as big as they are there, they're likely to be a lot bigger if he were to return in 2012.