Thaksin to Get Passport and Diplomatic Passport Back? New Thai Government Says So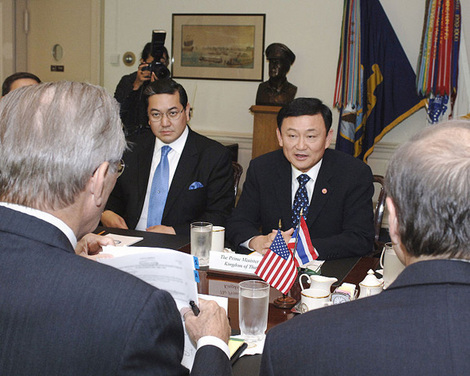 It looks as though the new Thai government of Yingluck Shinawatra, sister to illegally-ousted former prime minister, Thaksin Shinawatra, wants to return Thaksin's ordinary passport. There's also talk he might get his diplomatic passport back too. This according to Thai Foreign Minister Surapong Tovichakchaikul, who's currently leading a Thai delegation in New York.
"A passport is like an identity card. Even prisoners in Thailand still hold their ID card. I would like Thai society to think on this basis," siad Khun Tovichakchaikul yesterday.
And yep, he's right. Plus, taking away a person's passport is against every international law as declared under the United Nations Declaration of Human Rights, every person should have be citizen of a country:
(1) Everyone has the right to a nationality.
(2) No one shall be arbitrarily deprived of his nationality nor denied the right to change his nationality.
Under former prime minister Abhisit Vejjajiva's government, the Foreign Ministry revoked Thaksin's ordinary passport on April 12, 2009, after they said he made inciting remarks while abroad.
As freedom of speech in Thailand is largely non-existent and worsened considerably under Abhisit's goverment, it's not surprising the former Thai government would take away Thaksin Shinawatra's Thai passport for what he said. (But surprisingly, they won't take away the Thai passport of a Thai prime minister who ordered the shootings and killngs of ordinary Thai citizens demonstrating in Bangkok – amazing Thailand, eh?)
Meanwhile, Thaksin Shinawatra travels around the world on one of three passports – either fromMonetenegro, where he now holds citizenship, Nicaragua or Uganda. So, regardless he doesn't hold a Thai passport, it really hasn't impacted his life that much. Smart  move, Abhisit!