The Bibimbab in Bangkok, Thailand: Tasteless and Disappointing
Since I was taken to a Korean restaurant in Bangkok a few years ago by a Thai friend, I've been obsessed with the Korean dish – the bibimbap (sometimes written as bibimbab), and I've eaten one at any opportunity. So, while at Mega Bangna shopping mall last week with a couple of Thai friends, when we stumbled across a Korean chain called 'The Bibimbab' there was absolutely no question but that we would be eating there. Unfortunately, The Bibimbab's bibimbaps in Bangkok (get it?) really were quite disappointing — bland, tasteless and not remotely 'Korean'.
Ordering at The Bibimbab
One thing The Bibimbab makes easy is the ordering as their menus have huge photographs with the ingredients of each bibimbap listed in both Thai and English by the side of them. My two Thai friends chose a traditional bibimbap with beef and a tteokgalbi bibimbap with pork, while I decided on a bulgogi bibimbap with pork. As the food comes as a 'set', you also get a few side dishes and some soup, which is actually a very good deal for the inexpensive price.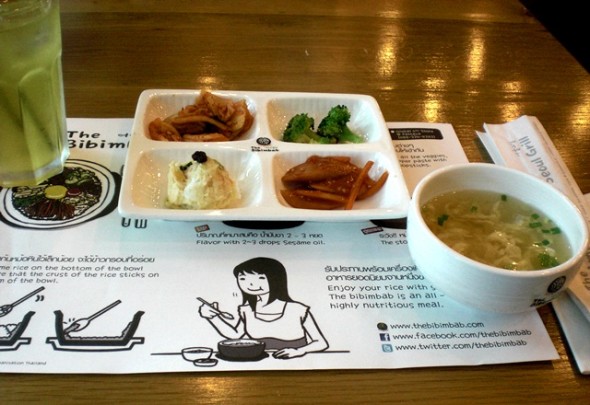 Side dishes at The Bibimbab
The first thing to arrive at The Bibimbab, once your order has headed to the kitchen, are your drinks and your side dishes or 'set' dishes'. We all ordered iced green tea, which was fine although, again, a little weak and tasteless.
The side dishes were nice, though, with kimchee, potato salad, sausages in a tomato sauce and broccoli served in a small ceramic side dish tray . My soup, however, was only lukewarm so, after a few sips I pushed it to one side.
The bibimbaps at The Bibimbab
When the bibimbaps arrived, however, this was when our real disappointment showed as all three of us discovered our food was almost tasteless. In fact, if I hadn't known there was pork in mine, I would never have guessed it as I couldn't distinguish any pork taste at all. In fact, nothing tasted of anything except the red pepper sauce and, for me, as I had to add so much to have any taste in my food at all, that was just like dunking a pot of black pepper onto your food — really really nasty.
As for my friends' bibimbaps, they both also declared they were 'bland' and one friend whose boyfriend lives in Korea so she travels there every couple of months, could not believe these were Korean dishes as she said they were nothing like what she had eaten time and time again in Seoul.
All in all, for me, The Bibimbab in Bangkok was a huge disappointment. It's one of those restaurants that's nicely designed, inexpensively priced and the food looked delicious. So good, in fact, I really wanted to like the food and The Bibimbab. Unfortunately, I just didn't.
If you want to try out The Bibimbag in Bangkok, to see if you have a better experience than we did, you'll find it on the second floor of the Mega Bangna mall outside on the balcony area.