Things Getting Back To Normal In Bangkok Slowly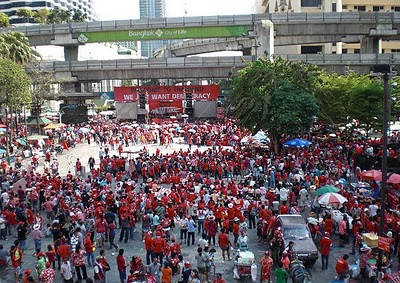 Yesterday, more than 2,000 people headed into the Rajprasong and Sala Daeng areas of Bangkok for a massive clean up to erase any sign of red shirt protests. Of course, with Central World Plaza badly damaged in an arson attack after the red shirt protests, and Siam Cinema destroyed, it's a little difficult to completely erase evidence of the red shirts, and will be for a long time to come.
But, people went back to work, Bangkok schools opened for the first time and businesses tried to get back into the swing of things. With the economy badly damaged and the tourist industry all but destroyed though, it will be some time before Bangkok and Thailand sees the true results of the red shirt protests. Meanwhile, the city will go about business as usual and hope for the best.
The mood in Bangkok is quite negative though as many are still worried. The problems between the red shirts and the government of Abhisit Vejjajiva have not been solved and, in fact because of the more than 85 deaths and over 1,000 injuries, now are worse. So Thais are still worrying, if protests start up again, the next time the final outcome could be a lot worse.
(Visited 48 times, 1 visits today)