Tune Hotel to Open in Patong, Phuket: Why You Shouldn't Stay There If You Want Cheap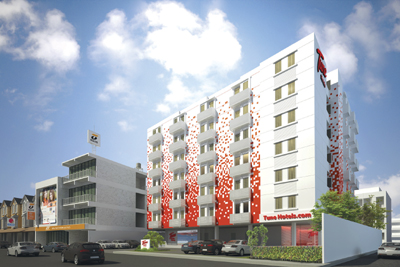 Planning a trip to Patong Beach on Phuket, Thailand and need some cheap but clean budget accommodation? Some people will tell you look no further than the brand new Tune Hotel in Patong Beach, which will be opening in early January, 2013. Me? I wouldn't stay at a Tune Hotel as, by the time you've paid all the 'extras' for services that would come included in any other hotel, Tune Hotel's always work out to be not that cheap at all.
Tune Hotels, of course, are owned and operated by budget airline Air Asia and the Patong location will be Thailand's fourth location. The hotel will have 144 rooms — 96 doubles and 46 twin rooms with another two built particularly for those travelers who are in a wheel-chair. Of course, rooms, just like in every Tune Hotel, are tiny and some don't have windows, so don't expect a true double or twin size room like you'd get anywhere else. Plus, me? I get claustrophobic in rooms without windows.
Tune Hotel rates in Patong Beach will begin at 799 baht a night for a twin or double room, which quite frankly isn't that cheap for Patong. Do be warned too, what you get for your money is minimal. No telephone, no radio, no iron or ironing board, no internet and no cable TV.
If you want internet, you pay for it (50 baht a day) and if you'd like cable TV, you pay for that as well (120 baht per day). Air conditioning is also not included, and that will run you an extra 140 baht a day if you don't want to sweat to death in your teeny tiny room.
So, basically, for one of the smallest twin or double rooms you'll ever stay in at Tune Hotel in Patong, Phuket with internet, cable TV and air conditioning, you'll end up paying 1,109 baht or $35.50 a night. And that doesn't include tax.
Considering you can book a much larger room in a very nice hotel like Candy House for only 700 baht a night, which includes cable TV, free internet, air conditioning and a fridge and, oh yes, tax, staying at Tune Hotel seems really kind of stupid. Especially as there are so many hotels just like Candy House in Patong, offering clean, comfortable and safe accommodation and with a boatload of mod-cons you don't have to pay extra for.
Tune Hotel at Patong Beach in Phuket? Sorry, no, I wouldn't recommend it.