Why Did Thai Airways Paint Over Logo After Suvarnabhumi Airport Crash Landing?
Why did Thai Airways paint over logo after Suvarnabhumi Airport crash landing?
It's not enough that a Thai Airways plane crash landed at Suvarnabhumi Airport on Sunday night, its second incident in just two weeks, but apparently Thai Airways then decided they'd make the situation even worse. How? By painting over the Thai Airways logo in an apparent attempt to hide the identity of the airline that had just crash landed. Weird? Thai logic? You might be surprised.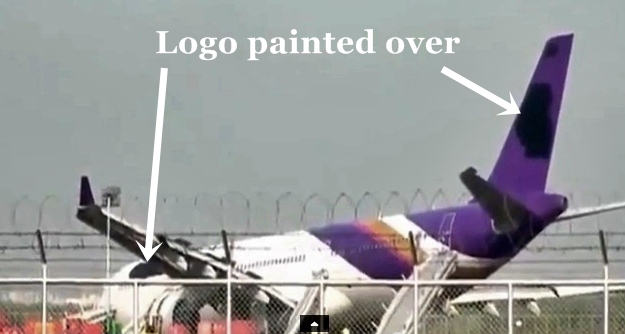 It wasn't Thai Airways that decided painting over the logo was a good idea
In fact, according to Thai Airways it wasn't actually them that came up with the idea. It's apparently a mandate handed down from Star Alliance, the German global airline alliance Thai Airways belongs to, as they believe its better for an airline's image not to have its logo splashed all over the front pages after a crash.
It also doesn't 'spook passengers' — read, make them decide to book with another airline.
It all seems a little odd to me. After all, photographs of the Thai Airways crashed plane had already been in newspapers and on TV channels all over the world, with the Thai Airways logo clearly visible. Hours later, the plane was shown again, this time with black paint covering the word 'Thai', which caused another round of international news stories, this time making fun of the Thai airline.
Weirdly, though, the purple paint, which is very recognizable on a Thai Airways plane was still clearly visible.
Sure, I'd love to be able to say 'Thai logic' with a sneer on my face as anyone who has lived in Thailand knows Thai logic isn't always the same as western logic but, in this instance, nope, it's 'German logic'. Weird, but true.