Why I Will No Longer Be Linking to Bangkok Post Stories and Videos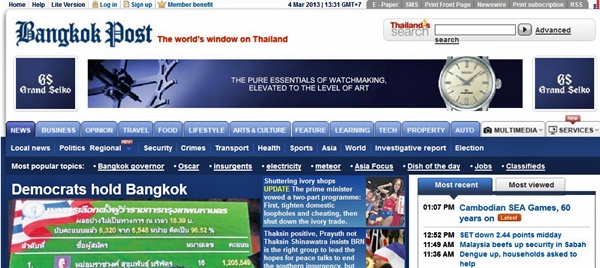 As a writer who, among other things, runs a website about Thailand, I often link to stories and videos from The Bangkok Post about issues I'm working on. The writing is far superior to the other English-language newspaper, The Nation, and the stories they cover are interesting.
Unfortunately, as of today, I will no longer be linking to Bangkok Post stories as I'm discovering it's simply not fair to my readers.
Unlike The Nation and many other newspaper that cover Thailand, The Bangkok Post makes all their stories inaccessible after 60 days to anyone who doesn't have a paid subscription.
That means, if I link to a Bangkok Post story and you come along two months later to read my article and want more information, you're wasting your time and effort clicking on The Bangkok Post link as it will no longer be active.
The same goes for Bangkok Post videos that they allow owner's of other websites to embed. There's really no point embedding Bangkok Post videos only to discover a few weeks later the videos have been taken down.
The people who run The Bangkok Post, unfortunately, don't seem to understand the nature of the internet and how permanent it's supposed to be. They also don't seem to get that if I link to a Bangkok Post story from my site or embed one of their videos, it gets them more views and, in the long run, more money.
Disabling that option after just a few weeks is not only detrimental to my many readers, it's also detrimental to The Bangkok Post and its business model.
No worries for my readers, as there are thousands of other outlets I can link to for additional information about any story on Thailand I write and YouTube has a plethora of videos from world-class news organizations like Al Jazeera, ThaiPBS, the BBC and Channel 4 News.
These organizations are intelligent enough to realize what having others promote their work does for the bottom line of their business, and it's why they are all some of the most-watched channels on YouTube and the most read online newspapers.
The Bangkok Post? They just don't seem to understand.