Will Yingluck Shinawatra Win Thailand General Election? New Poll Shows Her With 42.6% Support. Abhisit? 23.6%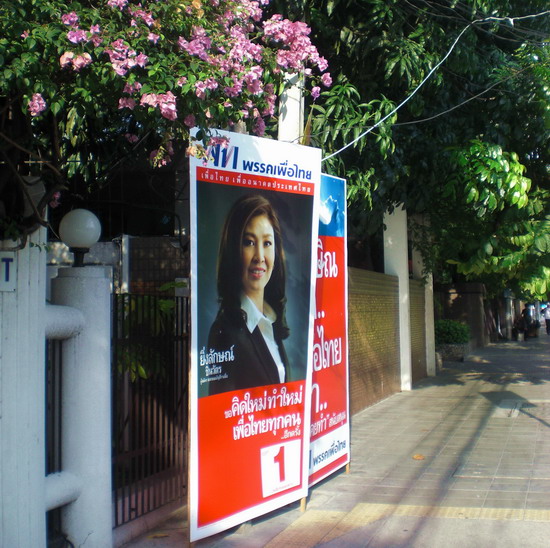 Will Yingluck Shinawatra, and Pheu Thai, win Thailand's general election on July 13th? Unless something truly bizarre happens (and this is Thailand, so it could), it's looking very much like it.
A new Bangkok poll says Pheu Thai party now leads the Democrats in Bangkok by 33.6% to 17.1% – a huge gap already, and one that looks like it may be widening as the general election draws near. The poll also said 42.6% of Bangkokians want Yingluck as next prime minister, with only 23.6% going for Abhisit.
And, as if it couldn't get any worse for Abhisit and the Democrats, the poll also shows Pheu Thai leading in 21 Bangkok constituencies. The Democrats? Only leading in six.
Meanwhile, you have to give Abhisit credit for remaining optimistic that he'll still win, particularly with overwhelming evidence to the contrary.
While on a trip to Jakarta, Indonesia on Monday, Abhisit said he's very optimistic about winning the election. Fascinating, when just about every poll says otherwise, and a majority of Thailand wouldn't vote for him.
Well, I suppose we all live in fairy land for some of our lives. It just looks like Abhisit has spent too much time there.
It must be a big shock for Abhisit though. The lead up to the general election was looking so positive. Then……Yingluck arrived, Pheu Thai ended up number 1 on the ballot and that, pretty much, was that for him.
Yingluck, meanwhile, is just continuing on her merry way – campaigning, doing interviews, showing what a strong political candidate she is.  In fact, the best thing Yingluck can do is ignore Abhisit completely. Pretend he doesn't exist. After all, why give this excuse-for-a-prime minister anymore air waves than absolutely necessary.