Yingluck Shinawatra Still More Popular than Abhisit Vejjajiva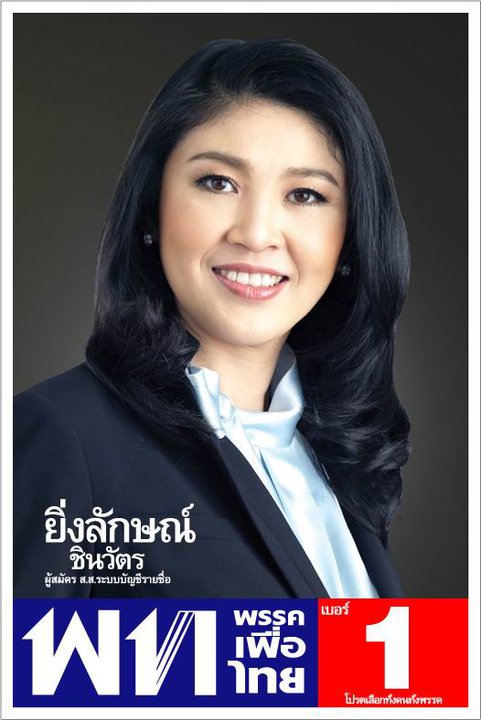 Hilarious. Thailand has an elected prime minister, Yingluck Shinawatra, who supposedly was pushed into power by her brother, Thaksin Shinawatra, the Thai prime minister who was illegally kicked out of office during a military coup in 2006 — a subject everyone on the opposition party is always talking about it.
The former prime minister, Abhsisit Vejjajiva, who talks, talks, and talks, but seems to get little actually done, is constantly spouting off about how corrupt Yingluck's government is, how they're doing things the wrong way, how they're inexperienced, how Thailand's recent flood disaster was their fault and blah, blah, blah – yet a recent ABAC Poll shows Yingluck is still more popular than Abhisit.
The ABAC poll result couldn't be funnier.
In fact, Yingluck has trampled Abhisit's popularity into the ground so badly,  (I don't think I've spoken to a Thai in months who likes Abhisit or any of his cronies), Yingluck's popularity is still at 34.7 per cent (down from 38.6 per cent in September) even after mismanaging Thailand's recent devastating floods, while Abhisit barely manages double digits. 14.2 percent to be exact. Pathetic. Truly pathetic.
Not surprising really though. After all, Abhisit was partially responsible for the deaths of more than 90 civilians during peaceful protests last year, as well as being the architect of one of the biggest losses of freedom of speech in any country in the world.
But, as the ABAC Poll proves, these things have a way of coming back to bite you in the ass. And Thais don't like him. Plain and simple. Really. Who does?