Zalora: Thailand's Most Popular Shoe and Fashion Company or a Scam?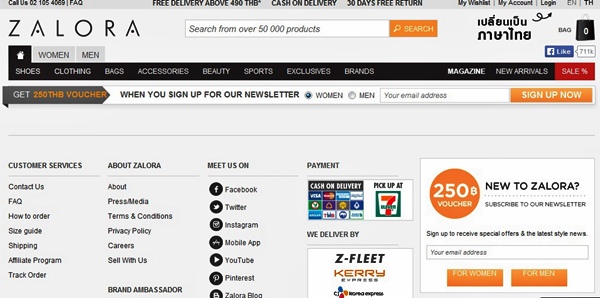 Complaints about Zalora increasing
If you see all the ads online for Zalora shoes and Zalora clothing, you might think Zalora is a legitimate company that sells stylish, fashionable clothing in Thailand for a reasonable price. Think again. Just five minutes doing a Google search for 'Zalora scam', or reading one of their Facebook pages to see what customers are saying, and you'll see new customer complaints about Zalora every month — a company that seems to advertise products they don't have in stock and can't deliver, and one that often has problems refunding the money of customers they've let down.
Zalora currently operates in Singapore, Malaysia, Thailand, the Philippines and a few other Asian countries. They're a start-up internet retailer funded by Rocket Internet – a German company that sets up copy-cat websites of successful companies in the west and then throws money at them to market them in developing countries.
The problem is, some of these companies don't seem to be particularly legit – at least when it comes to actually providing the products they are advertising that they sell — and Zalora seems to be one of them.
That's why, if you are thinking about buying shoes from Zalora in Thailand, or any other fashion product for that matter, you may want to think again or at least find out if your friends have ordered from them and what their experiences were before you do.
Granted most of the complaints about Zalora so far are not from Thai customers. However, that doesn't mean Thai customers aren't having the very same problems Zalora customers in other south east Asian countries are.
I currently have two friends that have ordered shoes and clothing from Zalora in Thailand, and both had negative experiences with products not arriving and, as yet, no refunds received.
That's why I know, for myself, Zalora is a company I will be avoiding the next time I decide to shop for clothing or shoes online.
Meanwhile, check out these negative reviews of Zalora from around southeast Asia and then make up your own mind.
Zalora – Scammed in Singapore
Zalora – Scammed in Malaysia
Zalora – Scammed in the Phillippines
Another story about a Zalora order that wasn't delivered in Singapore and a refund that didn't happen.
An extremely in-depth account of a former Zalora customer and how she was scammed by the company.
(Visited 283 times, 1 visits today)