Best Places To Shop For Cheap Clothes in Kuala Lumpur, Malaysia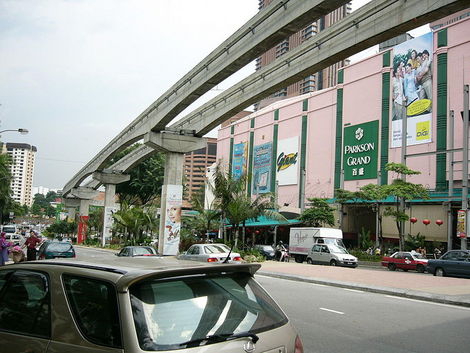 At least six times a year, I travel to Kuala Lumpur (KL), Malaysia to do some shopping. Just like Bangkok, the city I live in, Kuala Lumpur has some of the cheapest shopping in Asia, and for cheap clothing it's a fashionista's dream.
If, like me, you love to shop for cheap clothes, the next time you're in Kuala Lumpur don't miss stopping by these cheap clothing stores. They sell fashionable, top quality clothing for an inexpensive price.

Sungei Wang Plaza – The first place I head to when I arrive in KL is Sungei Wang Plaza. A shopping mall in the Golden Triangle, right next to Bukit Bintang monorail station, Sungei Wang has hundreds of stalls and shops selling cheap clothes. I've ended up with great deals on fashion t-shirts, skirts, shorts and even dress blouses and professional shoes for work.
The mall is, of course, targeted towards younger shoppers so, for the over 50 crowd, you won't find as much as younger women will. For trendy clothing, shoes, and accessories though, you can't beat Sungei Wang. Prices begin at 15 ringgit (around $4.75) for t shirts and 20 ringgit ($6.25) for casual pants and skirts. Don't miss the 2-for-1 sales too.
You can spend a whole day at Sungei Wang Plaza as, not only is it packed with clothing shops, it's got some decent restaurants and cafes too. So, when you need a break, grab a coffee or lunch before you head back looking for the good deal.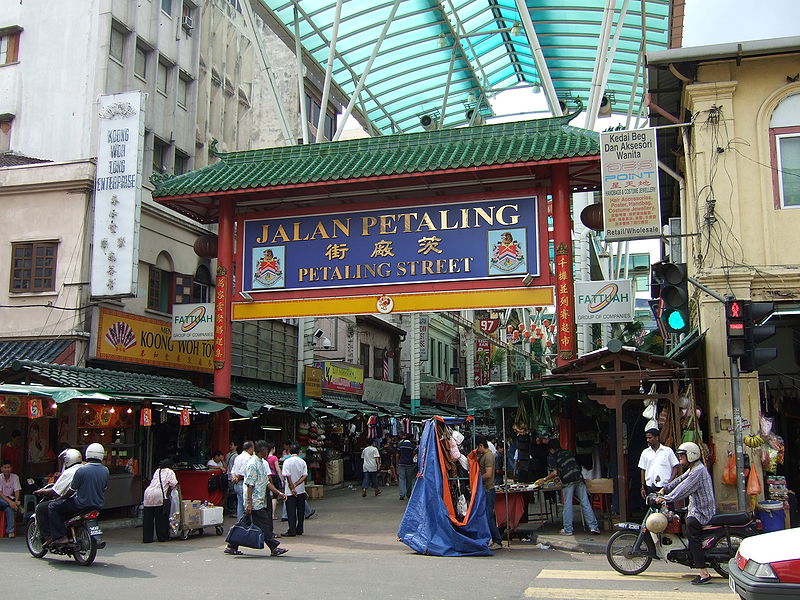 Petaling Street, Chinatown – The Petaling Street market sets up around lunchtime and is open every day until 11pm. This is the place where shoppers in-the-know come for cheap t shirts, shirts, jeans, belts, shoes, bags and accessories.
Many of the items are knock-off designer brands, but the quality is excellent and prices good. Some stalls also sell clothing that's not knock-offs, so you can buy that if you don't like the fake stuff. I've bought purses for as cheap as $6 and cool designer-style t shirts for $5. Don't forget to haggle for the best price. The stall owners expect it.
Related: What to buy on Petaling Street in Kuala Lumpur, Malaysia
You can get to Petaling Street market by taking the train from KL Sentral station to Masjid Jamek station and it's a five minute walk from there. The market also has dirt cheap and very tasty street food. Don't pass it up.
Suria KLCC Mall – The Suria KLCC Mall is right underneath the world-famous Petronas Towers. A high-end mall with mostly designer shops, you don't expect to find clothing bargains here but you might be surprised. I've found unbelievable prices on designer underwear, jeans, jackets and scarves.
At normal price, they're too expensive for me but, when the stores start their sales, I've bought designer clothing as much as 70% off, or bought one t shirt and got the second one half price.
Related: Best cheap places to shop in the Imbi area of Kuala Lumpur, Malaysia
Don't count on buying cheap clothes at Suria KLCC Mall but, if you have time, it's well worth stopping off and seeing what sales the designer stores are running.
Get to the mall by taking the train from KL Sentral train station to the KLCC station. The station exit opens up right into the bottom floor of the mall.
Reject Shop – Just like it sounds, Reject Shop is a chain of stores selling clothing that's off-season or discontinued lines, mostly from designer stores in the US, Australia and Europe.
I've bought some of the cheapest clothing I've ever seen in my life at Reject Shop. Designer t shirts as low as $4, pants and jeans at $7, and even a lightweight denim jacket for only $15. Reject Shop is a good place to shop for older women, or those who are larger sizes, as many of the clothes at Reject Shop are European or American sizes, not like some other Kuala Lumpur shops that only cater to women size 10 or under.
Reject Shop has branches all over KL, as well as in other cities throughout Malaysia.
MO Outlet (Melium Outlet) – Another of my top finds in Kuala Lumpur was when I discovered Melium Outlet, otherwise known as MO Outlet. This outlet store is just a few minutes in a taxi from the city center, but once here a woman who lives for designer fashion will not know where to start.
MO Outlet specializes in high-end designer clothing, at discounts of 40-70%. Etienne Aigner, Cole Haan, and Ermenegildo Zegna are just some of the designers whose clothing they feature.
The wonderful thing about MO Outlet too is you don't have to dig through mounds of messy clothing to find what you want. It's all displayed beautifully just like it would be in the original designer's store.
You'll find MO Outlet at 62, Jalan 8/91, Taman Shamelin Perkasa, Kuala Lumpur.
You'll find a lot more information about making the most of your trip to Kuala Lumpur here.