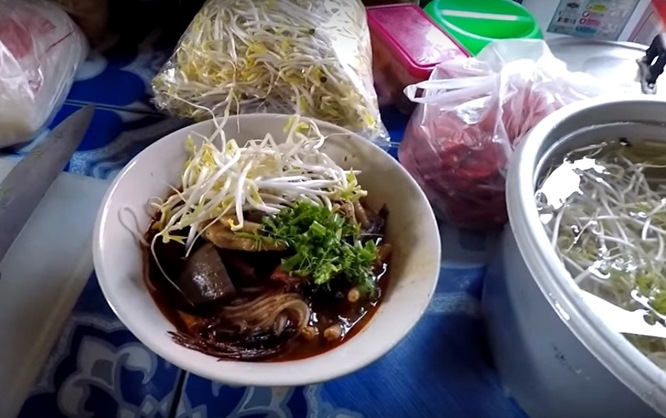 How to make authentic northern Thai Khanom Jeen Nam Ngeow
If you like to make Thai food, but only want to cook the authentic stuff, then do I have a video for you (see below).
A video from Pie, a northern Thai woman, cooking the authentic Thai dish 'Khanom Jeen Nam Ngeow' — a spicy curried noodle soup that is an iconic northern Thai food, and one beloved by  most Thais.
Like all Thai foods, there are many variations of Khanom Jeen Nam Ngeow depending on the area of the north and the family who makes it. That being said, there are also some similarities.
The noodle part of Khanom Jeen Nam Ngeow is always made with the thin spaghetti-like noodles that are made from rice flour.
It always has either chicken feet, pork or occasionally beef, cubes of blood and cherry tomatoes. Herbs are also always part of the broth, although they will occasionally differ, as is soy sauce and fish sauce and, once ready, the curried soup is served with fried garlic, pickled mustard green, cilantro, raw cabbage, bean sprouts, and lime.
Here is a basic recipe for Khanom Jeen Nam Ngeow, which is slightly different than the one Pie uses in her video, but it will give you an idea of what you will need to make it.
As you will notice when Pie makes her version of Khanom Jeen Nam Ngeow, many of the ingredients are just guessed at when it comes to how much to add to the pot as precise measurements are not needed.
Ingredients for Khanom Jeen Nam Ngeow
500g pork ribs, chicken feet or minced pork or beef
250g pork blood, cubed (if you don't like this, add more chicken, pork or beef)
1 liter of water
4-6 dried chilies depending on how spicy you like it
chopped spring onions to taste
8 cloves of garlic, chopped and fried till crispy
1 tbsp chopped galangal
1 tbsp chopped lemon grass
2 tbsp oil
12-15 cherry tomatoes chopped in half
MSG
Rice flour noodles
How to make Khanom Jeen Nam Ngeow
While the ingredients for Khanom Jeen Nam Ngeow above are a good guideline, as you will see when you watch Pie make her family's version of Khanom Jeen Nam Ngeow, it differs in various ways.
She uses chicken feet, chicken blood, cherry tomatoes, chili sauce, cabbage, sardines, soy sauce, oyster sauce, dried soy beans, pork seasonings and MSG (that is what the Ajinomoto she talks about actually is), and then a variety of vegetables including bean sprouts for toppings.
Watch Pie make her version of Khanom Jeen Nam Ngeow in the video below. In her parents kitchen, in a small village in northern Thailand about 90 kilometers from Chiang Rai.
And, if you like what she does, do subscribe to her and her husband Graham's YouTube channel. They upload a daily vlog every day of what it is like living in a rural Thai village and running a small subsistence farm, and it is fascinating.
Related: How to make authentic Thai 'Larb Gai' — so easy and delicious (video)