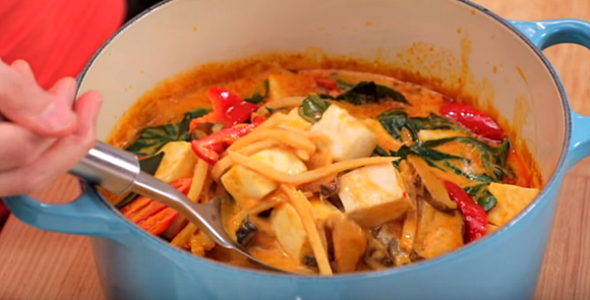 How to make Vegan Thai Red Curry
While buying vegan food in Thailand can be incredibly easy — what with all the amazingly fresh fruit, vegetables and grains the country grows — finding cooked vegan food in Thailand can sometimes be a challenge.
After all, every vegan who has lived in or traveled around the country has probably eaten and enjoyed a 'vegan Thai dish', only to discover later it was made with fish sauce.
Yes, Thais do sometimes have a different idea about veganism than does much of the rest of the world.
That being said, it is possible to buy cooked vegan food in Thailand. It is also possible to make your own vegan Thai food, as there are thousands of recipes online that have veganized a typical Thai dish and still kept it delicious.
Vegan Thai Red Curry from Pailin's Kitchen
One of my favorite traditional Thai dishes that has been made into a vegan variation, and that I just have to share, is Vegan Thai Red Curry.
Known in Thai as Gaeng Ped Mangsawirat, it is a tasty dish from Thai chef Pailin "Pai" Chongchitnant that I have made many times.
Related: Is it easy to buy vegan food in Thailand?
Pai has been uploading videos to her YouTube channel — Pailin's Kitchen — for several years, and is now so popular she has almost 650,000 subscribers and over 66 million video views. She also has a cookbook out called Hot Thai Kitchen.
And yes, her recipe for Vegan Thai Red Curry is to die for, and only takes about 30 to 40 minutes to prepare and cook.
Ingredients needed to make Vegan Thai Red Curry
2 cups hot water

6-8 pc dried shiitake mushrooms

1 cup bamboo shoots, canned, strips or sticks

2 cups coconut milk

3-5 Tbsp red curry paste (make sure it does not include shrimp paste)

1 heaping Tbsp tomato paste

1 Tbsp soy sauce

½ Tbsp Golden Mountain Sauce

2 Tbsb palm sugar, chopped

6-7 kaffir lime leaves

300 g medium firm tofu (smooth variety if possible)

A handful red peppers for colour (optional)

1 big handful Thai basil
Making Pai's Vegan Red Curry is easy as well, as you will see from her video below. It also does not take that long to prepare and is fun to do. (**You will find her recipe, plus full instructions on her Hot Thai Kitchen website).
She also adds her 'secret ingredient' — tomato paste. I have made it both with and without the paste when I didn't have any in the fridge and, yes, she is right. It is even better with it cooked into the curry sauce.
If you are in Thailand, of course, all of the ingredients for Pai's Vegan Red Curry are readily available at most supermarkets, or fresh markets around the country.
If you are outside Thailand, an Asian supermarket should carry the less-easy-to-find ingredients like bamboo shoots, kaffir lime leaves and palm sugar.
Make it once, and I guarantee this will become your favorite vegan dish.
Related: How to easily make Pad Grapao Moo aka Thai Spicy Chicken with Holy Basil
How to eat a cheap and easy raw food, vegetarian or vegan diet in Thailand
Vegan restaurant May Kaidee serves the best vegetarian and vegan food in Bangkok, and it's so cheap