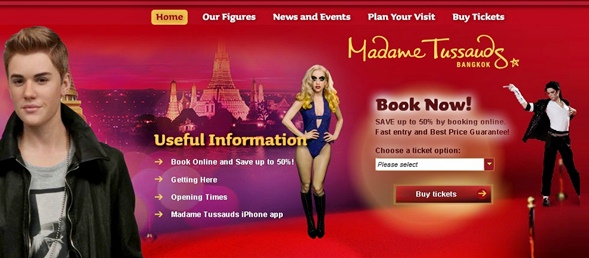 I'm the first to admit I'm a cheapskate. So, when a Madame Tussauds Wax Museum opened a couple of months ago in Bangkok, Thailand and the entrance price was 800 baht ($27) for foreigners (Thais get in cheaper),  I decided against it.
Then, a Thai friend was given a 'promotion coupon' with an offer of entrance for two people for 800 baht we decided to give it a try. Now, I haven't been in a Madame Tussauds since I was a kid growing up in England but, let me tell you, Madame Tussauds Wax Museum in Bangkok is incredibly cool.  And, if you're Thai, you should go (we'll get to that statement later).
Where is Madame Tussauds Wax Museum? – One of the best things about the new Madame Tussauds in Bangkok is the location. Unlike some other Thai tourist attractions, Madame Tussauds is right next to the sky train in the Siam Discovery shopping mall, so it's very convenient to get to.
Just take the sky train to Siam station, and from there walk half a block to Siam Discovery. The entrance to Madame Tussauds is at the front entrance of the mall, so easy to find.
What Will You See at Madame Tussauds? – The first thing I was absolutely shocked about at Madame Tussauds in Bangkok is that you can actually touch the wax figures. Used to museums where touching anything is not allowed, it was amazing to see people walking up to the wax figures, holding their hands, putting their arms around them, and being photographed in all kinds of funny and interesting situations.
There's wax figures of Madonna, Michael Jackson, George Clooney, Brad Pitt, Johnny Depp and Angelina Jolie. Don't miss Pablo Picasso, Albert Einstein and Mahatma Gandhi. Pay homage to Her Majesty Queen Elizabeth or Princess Diana, practice Kung Fu with Bruce Lee, or have your photo taken with Michelle and Barack Obama. They're all here and a lot more famous western and Asian celebrities, politicians, sports personalities and scientists.
The one thing my friends and I both loved though about the Bangkok Madame Tussauds was how many Thai personalities actually had wax figures here. We asked an attendant and he said around 30% of the figures are Thai, which for them being Thai and for me and another western friend loving Thailand, was such a nice change from the western-centricness of so many other tourist attractions around the world.
The Thai wax figurines are wonderful, but I was absolutely thrilled to see they have my favorite Thai personality of all time – Dr. Pornthip Rojanasunan. Dr. Pornthip is Thailand's popular forensic scientist, famous for her outspoken personality (a no-no in Thailand) as well as for her wild clothes and punk rock hair, she's the ultimate in "Thai cool".
There's also a figure of Yodrak Salakjai, a famous Thai folk singer, Anne Thongprasom, a current Thai soap opera star and, of course, M.R. Kukrit Pramoj, a true Renaissance man. Mr. Kukrit Pramoj was a former Thai prime minister, a writer, a traditional Thai dancer, an actor, a university professor and much more, and is one of Thailand's most loved personalities.
Of course if, like me, you're a Muay Thai boxing fan, you'll also love the wax figure of Khaosai Galaxy, one of Thailand's best ever Muay Thai boxers and now a singer and movie star.
There's also one section, The Royal Room, that is simply spectacular. Featuring the figures of HRH Prince Mahitala Thibed Adulyadej and HRH Princess Srinagarindra, the parents of Thailand's current king, His Majesty King Bhumibol Adulyadej this, of course, is the only room where you can't touch the figures. They are, after all, royalty.
In the Royal Room, everything in the room was created to precise historical details and with the agreement of the Thai Royal Family – an absolutely gorgeous and, to me, quite moving room, as the Royal Family is so revered in Thailand.
Details for Your Visit – Madame Tussauds in Bangkok is open every day, from 10am to 9pm. Ticket prices are currently 800 baht ($27).
The one irritant at the Bangkok Madame Tussauds is Thais get in for a much cheaper price than anyone non-Thai does. What's even more irritating the price for Thais is written in Thai numerals so, unless you read Thai, you don't have any idea that you're paying almost three times more for your ticket than a Thai does.
For this fact alone, I wouldn't go back to Madame Tussauds, if I had to pay the full 800 baht price as I find that disrespecful.  It's also why I recommend Thais go, as they only pay 300 baht ($10), but tell farangs (westerners) to stay away.
Related