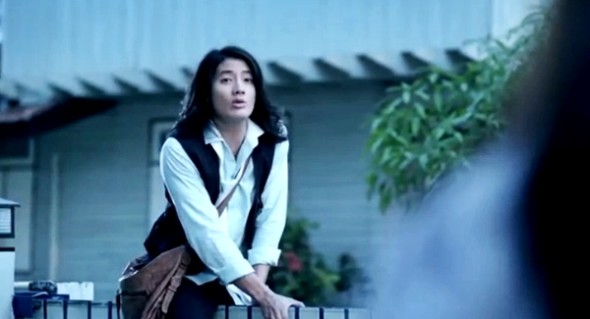 My Name is Love (เค้าเรียกผมว่าความรัก) is a new Thai romantic comedy movie that looks like it may be a big hit. It tells the story of a young Thai guy who, when he was in high school really thought he was "all that". In fact, he was so used to girls liking him he often paid no attention to them. As he gets a little older, however, he falls in love with one of the most beautiful girls he's ever seen, only to discover she'd declared her love for him once before when she was really young, and he had been rude to her.
Now he has to find out, can he get the girl to fall in love with him again and forgive him for what he did, or is he destined to lose her to someone else?
In true Thai movie fashion, My Name is Love is sweet, funny, touching and completely appropriate for teens. And yes, the main actor Arak Amornsupasiri is currently one of Thailand's biggest heart throbs. He's a top fashion model (it's the hair!), a great actor and, of course, plays guitar for the Thai rock band 'Slur', so you just know a million Thai girls are desperate to see his latest movie.
My Name is Love stars Arak Amornsupasiri, Jazz Chuancheun, Khom Chuan Chuen and Thunyasupan Jirapreechanon, and is directed by Wasin Pokpong. It opens in Thailand's movie theaters on October 11th, 2012. Don't miss this one.