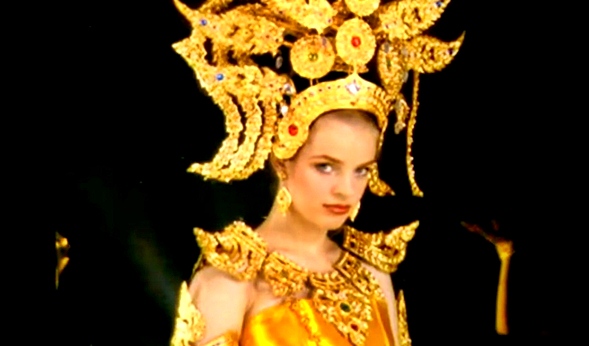 One of the interesting 'farang' (white westerner in Thai) success stories in Thailand is that of Christy Gibson or 'Kitty' as she's known in Thailand.
A Dutch-British woman, who moved to Thailand with her family when she was six, Christy Gibson has become hugely successful in Thailand in the last decade singing Thai country music or 'luk thung'.
Nowadays, Gibson is loved by Thais who now often consider her 'Thai', and is seen as one of the country's top luk thung singers. Not surprising as she is an incredible singer.
Perfect pitch, perfect Thai pronunciation and, of course, very beautiful.  She's also trying to make sure 'luk thung' in Thailand doesn't get lost in the country's rush to westernize and develop.
Normally singing Thai country music, in this video Christy Gibson sings in Khmer – a beautiful song and an absolutely gorgeous costume. In fact, a truly lovely and unique video.