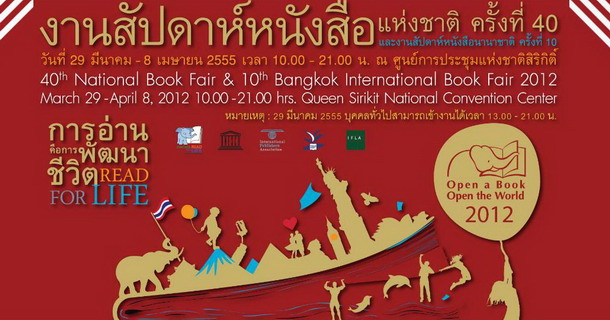 The 10th Bangkok International Book Fair and the 40th National Book Fair are two of the must-go-to events for any book lover who lives in Bangkok, Thailand. so expect the Queen Sirikit National Convention Center (QSNCC) to be packed this weekend and next as both the Bangkok International Book Fair and the 40th National Book Fair take place there.
That these book fairs are held twice a year at the QSNCC is even more cause for celebration, as they are two of the largest book fairs in Asia and the QSNCC is a wonderful facility to hold them in.
If you haven't been to one of Bangkok's International or National Book Fairs before, here's what you can expect — several hundred publishers and book sellers with stalls that sell everything from books on Thai history to Thai culture, fiction and non-fiction, children's books, romance, recipe books, art books, history, science, religion and lots lots more.
Most of the books are in Thai at the National Book Fair, but you will find enough sellers who also have English books to make it well worth a visit (both Asia Books and Kinokuniya are usually there and they always have awesome sale items). The International Book Fair section of the trade fair has foreign publishers from all over the world, with just about all their books in English.
The wonderful thing about the International and National Book Fairs though is not only the huge selection of books you can literally spend hours browsing, but also the sales on them, with many books being offered at a 50 percent reduction in price.
Don't forget too, the Queen Sirikit National Convention Center has some wonderful cafes and restaurants and, of course, a huge food court. Plus, there will be a plethora of food stalls set up for cheap snacks and meals, so you can spend all day here.
The Bangkok International Book Fair and 40th National Book Fair will be held at QSNCC from now (they started yesterday) until April 8th, 2012. If you don't like crowds, head there in the evenings instead although, be warned, no matter what time you go it will feel like half of Bangkok is there.
You can find out more information about both events here in both English in Thai.
Finally, if you love a good book, you will probably be interested to know Bangkok has been named the 2013 Book Capital of the World by UNESCO. Cool, eh?