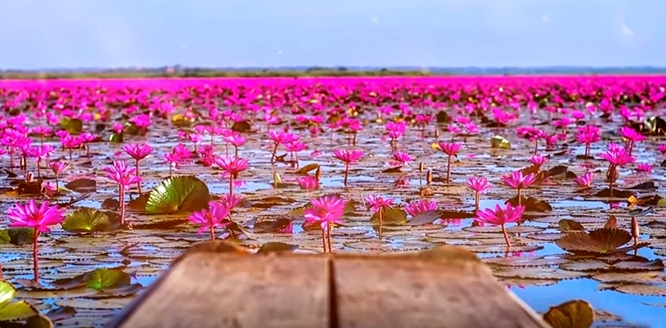 12 magical places in Thailand you must see before you die
When it comes to magical places around the world, no country has more than Thailand. A country full of exotic, beautiful places, the likes of which you will not find anywhere else.
If you are looking for the most stunning views, most unusual sites and some of the most beautiful places you have ever visited, then Thailand is the place to come. And these 12 magical places in Thailand are ones you really should see.
Once you have read the article, watch the video at the bottom of the page showing each place in its full gorgeousness. Just ignore the pronunciation, as the commentator couldn't pronounce most of these place names to save his life.
Khao Sok National Park
This is one of Thailand's most beautiful natural reserves and populated with some of the country's most unique animals.
Surrounded by lakes and rivers Khao Sok National Park is the place to go for trekking, swimming, canoeing and, of course, taking the most stunning photographs.

Wat Phra Kaew
Thailand's most iconic temple, Wat Phra Kaew is located in Bangkok, next to the Grand Palace. This temple houses the Emerald Buddha, a buddha statue that is one of the country's most revered, and the temple buildings themselves are stunning. Every time I have a visitor in Bangkok, this is always the first place I take them.
Wat Rong Khun
Wat Rong Khun, or the White Temple, is located just outside Chiang Rai. Built in the 20th century, the White Temple is incredibly elaborate, and is not a temple but an art exhibit. It is beautiful to look at though, and a great place to take photographs.
Wat Plai Laem 
This temple is on Koh Samui and is known for its 18-arm statue of Guanyin, the Goddess of Mercy and Compassion.
Snow Mountain, Chonburi
Located in Chonburi about an hour and a half outside Bangkok, Snow Mountain is a place that from a distance looks like mountains covered in snow. Except this being Thailand there is no snow and it is all completely natural rock. Once you get up close, you will see it seems more like moon rock than anything else, but still very interesting to see.
Wat Chalermprakiat Prachomklao Rachanusorn, Lampang
Outside the northern Thai city of Lampang, Wat Chalermprakiat Prachomklao Rachanusorn, known by the locals as Wat Doi, is a brand new temple built in 2004. Construction is still on-going but, once you get there, you will see an incredibly beautiful temple with white buildings and golden domes perched right on the top of a mountain and almost clinging to it.
To me the temple seems much more like it belongs in Tibet than Thailand, but it is lovely. To get to it, you will need to hire a local tuk-tuk or taxi or van driver to take you. Just negotiate a price before you leave Lampang.
Sa Morakot, Krabi
Also known as the Emerald Pool, Sa Morakot is a crystal clear pool that is naturally filled by hot springs. It is located in the Khao Pra-Bang Kram Wildlife Sanctuary, and is one of the clearest and most beautiful bodies of water you will ever see. You can swim in the pool. Just do not drink the water as it can cause you to develop kidney stones due to the high calcium carbonate content.
Sam Phan Bok, Ubon Ratchathani
Another of the most magical places in Thailand is the country's version of the Grand Canyon. It is located in Ubon Ratchathani just over 600 kilometers from Bangkok. Sam Phan Bok is a place you can only visit during the dry season as, during rainy season, the water of the Mekhong River rises and covers Sam Phan Bok.
Pha Chor Canyon, Chiang Mai
Eroded soil pillars washed out of the rock face by the Mae Ping River have created the Pha Chor Canyon, just outside the northern city of Chiang Mai. Located in the Mae Wang National Park, the pillars are more than 30 meters high. There is not much else to see except this natural phenomena, but they are interesting to photograph.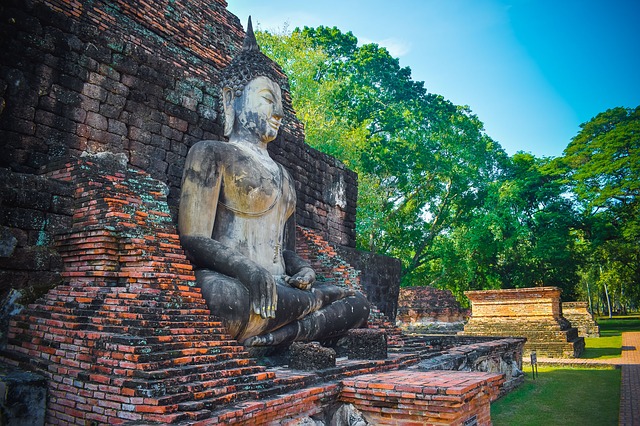 Sukhothai Historical Park 
Here you will find the remains of the ancient Thai kingdom of Sukhothai. It is a UNESCO World Heritage Site, and one of the most visited places in Thailand. It covers more than 76 square kilometers of land, has 26 temples, the remains of the royal palace and hundreds of Buddha statues. Rent a bike so you can see as much of it as possible.
Talay Bua Daeng
Just about the most stunningly beautiful of the magical places in Thailand is Talay Bua Daeng or the 'Red Lotus Sea'. It is located in the province of Udon Thani, and is known as one of the world's most beautiful lakes. The best time to visit, however, is from late December until early February, as this is the time of year that the red lotus plants are out in full glory.
Railay Beach, Krabi
One of the most beautiful beaches you will ever visit, Railay Beach in Krabi has high limestone cliffs, the most gorgeously clear blue water and a relaxed feel. Once you get there, you will recognize it immediately as it is the place where a million photographs of beautiful Thailand have been taken.