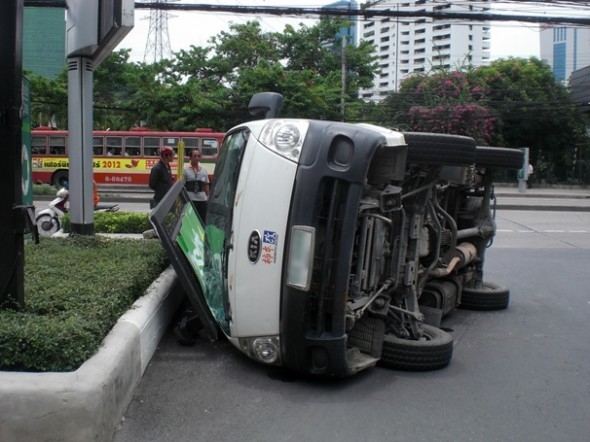 49 more people die on Thailand's roads on '2nd Dangerous Day' — down 20% from 2016 so far
The second day of Thailand's '7 Dangerous Days' — the days between Christmas and just after New Year when traffic accidents are often at their worst — saw 49 more people die in traffic accidents. 41 people died on the first of the '7 Dangerous Days' on December 28th.
609 people were also injured on the second day, up from 500 on the first day.
Again, as on the first day, according to the Road Safety Centre, most fatal accidents were as a result of drunk driving (42 percent) or speeding (23.25%). Most deaths occurred due to motorcycle accidents (77.57%).
And, while it may not be possible if you have your regular life to live during the '7 Dangerous Days', if you can it may just pay you to avoid driving or riding on a motorcycle until after the New Year's holiday ends on January 3rd, and to take Thai public transportation instead.
That is because the sad fact of life is that Thailand is currently the world's most dangerous country when it comes to traveling on the nation's roads, and that becomes even more likely during New Year when so many people are drinking and driving.
In a bus, a taxi, or a pickup truck, you stand more of a chance of surviving a traffic accident between you and someone who should not be on the roads because they are drunk. On a motorbike, that chance plummets drastically. If you are the person driving a car or motorbike while drunk, your chances of making it home without serious injury or death plummet as well.
After the official figures for Thailand's second of the '7 Dangerous Days' were calculated, Road Safety Centre deputy director Karun Sakulpradit said the highest number of deaths occurred in Si Sa Ket (7 deaths), just as they did on the first day (6 deaths).
Nakhon Si Thammarat had the most road accidents with 44 as that city's total.
The total number of deaths in the first two days now stands at 92, with 1,107 injuries, some severe, and in 1,053 traffic accidents nationwide.
Sadly, as the next five days progress, Thailand is likely to see a lot more.
There is a little bit of good news in all of this tragedy, however, as The Bangkok Post is also reporting there have been 20 percent fewer deaths this year than in the first two days of the '7 Dangerous Days' in 2016.
As the Thai Transport Ministry was hoping increased enforcement of traffic laws over the New Year Holiday would lead to 5 percent fewer deaths, if this continues over the next five days, the number will hopefully surpass that.