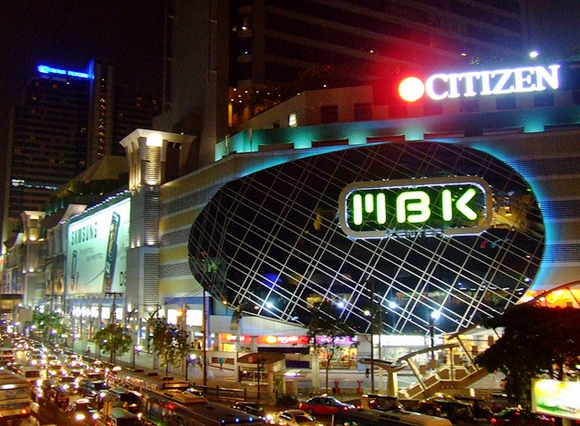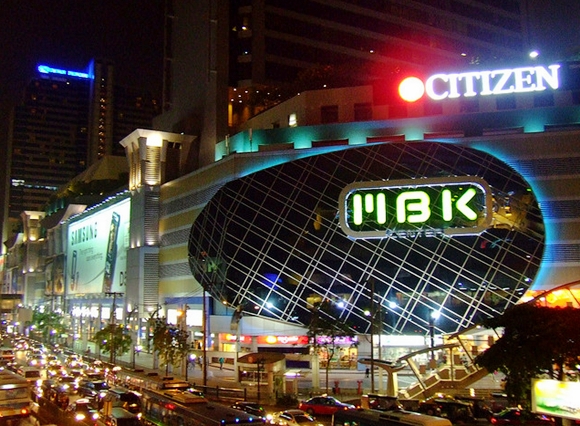 5 best cheap things to do on a budget in Bangkok, Thailand
First let me start this by saying doing the best things on a budget in Bangkok, Thailand does not mean signing up for a day tour. I say this because I have seen countless websites talking about the 'Top 10 best  cheap things to do on a budget in Bangkok', and then doing nothing but trying to sell you their overpriced tours.
Having fun on a budget in Bangkok means exactly that. Having fun, seeing some really cool places and all while not spending too much money.
So, if you are ready to have fun and still have enough money left over for a nice meal at the end of it, check out these five best things to do on a budget in Bangkok.
Visit the Jim Thompson House
The Jim Thompson House is one of the best places to visit in Bangkok as, not only is it cheap to see and tour the house, but it is in gorgeous grounds, you feel like you are in the countryside yet it is right in the middle of downtown Bangkok a block and a bit from the sky train, and across the street from one of the city's biggest shopping malls.
At Jim Thompson House you will be able to walk around the 6 teak house complex that famous silk entrepreneur Jim Thompson used to live in. You will see his collection of Southeast Asian art and antiques and hear the story of how he disappeared on a walk in the Malaysian jungle never to be seen again.
The complex also has a lovely cafe that is popular with Bangkok's high-society crowd where you can enjoy a coffee, a snack or even lunch. And don't miss shopping at the silk shop either. The Jim Thompson company does sell the best silk in Thailand and it is well worth buying something here.
You can find out more about the Jim Thompson house here.  The entrance fee is just 150 baht ($4.28) and only 100 baht ($2.85) if you are under 22 and with an ID.  A guided tour is included in the price. So, no, you do not need to take a tour to go here costing you $35 or more.
Located at 6 Soi Kasemsan 2, Rama 1 Road — You can get to it from the National Stadium BTS sky train station. It is across the street from MBK shopping mall and down a side soi. Signposts are easily visible on street level. Open from 9am to 6pm every day.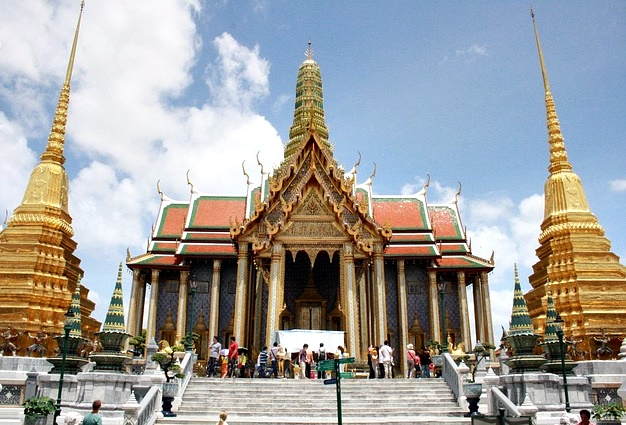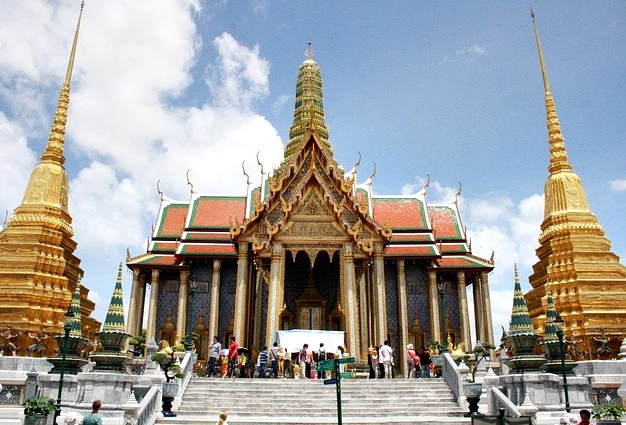 Grand Palace and Wat Phra Kaew
The first place I always take visitors to when they arrive in Bangkok is the Grand Palace and Wat Phra Kaew.
One of the most extravagantly beautiful buildings you will ever see and once the official residence of the Kings of Siam, the Grand Palace is a huge palace and temple complex filled with ornate buildings, exotic statues, and is the home of Wat Phra Kaew and the world-famous Emerald Buddha.
The Grand Palace complex is also the perfect place to take stunning photos, to wander around the picturesque gardens or just to stand and marvel at the architecture.
Get their early, though, as it gets very crowded after about 10:30 am and be sure to dress appropriately for a temple, or you will be asked to rent clothing that covers your bare legs and bare shoulders.
Tip: When you arrive at the Grand Palace entrance, you will often be stopped by someone telling you it is "closed today". Ignore them. It isn't. Instead, this is just a scam perpetrated by a group of con artists who want to get you into a tuk-tuk so they can take you on a 'tour' of the city, only to take you to a gem store with the hope you will buy jewelry or gems.
Entrance fee is 500 baht ($14.25) so, again, no need for an expensive $40 half day tour. The entrance fee also allows you admittance to the Vimanmek Teak Mansion if you go on the same day.
You can get to the Grand Palace via a sky train to the Saphan Taksin BTS sky train station. Once at the station go down the steps and head to the river. Here you will take a Chao Praya Express Boat and get off the boat at Tha Chang. The Grand Palace is a short walk from here.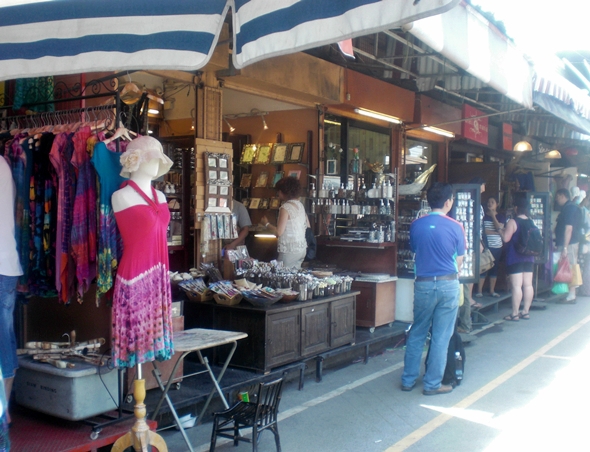 Chatuchak Weekend Market
One of the largest open-air markets you will ever see, Chatuchak Weekend Market has around 13,000 stalls and sells everything you could ever want.
If you are looking for a place to eat cheap Thai food, buy souvenirs, clothes, shoes, art work, Thai handicrafts, household items, flowers, pets — you name it, they sell it — it is all here.
Chatuchak also has some fabulous bars where you can grab a beer or a cocktail, eat a snack and just watch the world walk by.
You might also want to read How to enjoy and survive Chatuchak Weekend Market, because it is a bit overwhelming at first.
Open Friday evening and all day Saturday and Sunday till around 6pm (although many stalls and bars are open later than this), and dead easy to get to as it is next to the Mo Chit BTS sky train station. Just get off the train and follow the crowd.
Terminal 21 and MBK shopping malls
Included in my best cheap things to do in Bangkok on a budget are the two shopping malls I always recommend — Terminal 21 and MBK.
Terminal 21 is an airport-themed mall with a huge variety of shops — some market-style booths and with every floor dedicated to a different country. Here you will see a massive model of San Francisco's Golden Gate Bridge, enormous statues of sumo wrestlers on the Japan floor and an almost life-size double decker bus on the British floor.
Take your camera as there are some superb photo opportunities. And do check out the bathrooms on each floor as every one is designed in the theme of the country that floor represents and each one is really cool.
Terminal 21 is also the location of one of the best and cheapest food courts in Bangkok (Pier 21). There is an enormous movie theater, if you would like to see a film to get out of the Bangkok heat, and free Wi-Fi throughout the building.
You will find more photos of what you can expect at Terminal 21 here.
MBK shopping mall is a few train stations away and is one of the cheapest shopping malls in the city.
Here you will find a huge number of inexpensive restaurants, shops selling everything you could imagine, a large section devoted to traditional Thai arts and crafts and one floor dedicated to everything electronic. If you want to buy a phone or a computer, here is where to do it.
There is also a movie theater and a bowling alley if you just want to have some fun.
Here is how to get to MBK and what to buy when you get there.
You will find Terminal 21 right next to the Asoke BTS sky train station and MBK (Mahboonkrong) next to the National Stadium BTS sky train station. Both are open from 10am to 10pm every day.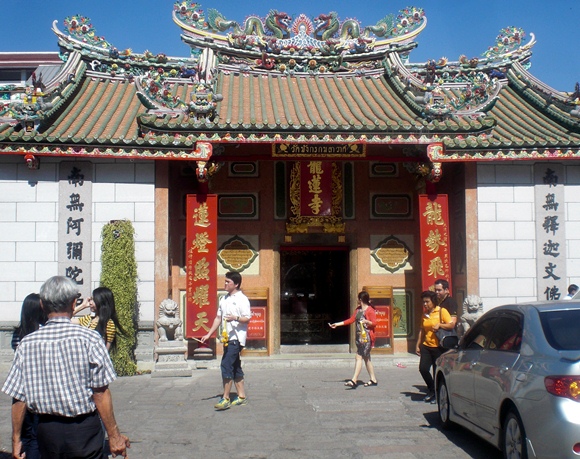 Wander through Bangkok's Chinatown
I cannot stress enough how cool Chinatown in Bangkok is and how every visit to the city should include a wander through it. Oh and yes, it's enormous.
The best thing to do is to just go there and walk. Check out Sampaeng Lane, which runs parallel to  Yaowarat Road. It is the area's largest shopping alley with some incredible bargains. Pick up some tasty Chinese snacks from a cart along the way and stop off in one of the area's many fabulous restaurants for lunch.
Visit Guan Yin Shrine, a Chinese temple and shrine dedicated to the Chinese Goddess of Mercy. It is bright, colorful and houses a 900-year-old statue that locals come from miles around to pray at.
If you are there at night, head to Yaoworat Road and pick a seafood street stall, sit down on a plastic chair and order three or four dishes. Chinatown sells the freshest seafood, some of the most delicious fish, shrimp, octopus and crab that you will ever eat and at ridiculously cheap prices for a huge amount of food.
Most importantly, take your camera as there are some fascinating things to photograph.
Read Chinatown is the place for cheap shopping and the best food for more information.
Get to Bangkok's Chinatown by taking the BTS sky train to Saphan Taksin. Walk to the river and take the Chao Praya Express boat to Ratchawong Pier. Walk a couple of blocks until you see Soi Wanit 1 or Sampaeng Lane. You can either walk up Sampaeng Lane and start shopping or keep walking until you reach Yaowarat Road, one of the main streets running through Chinatown.