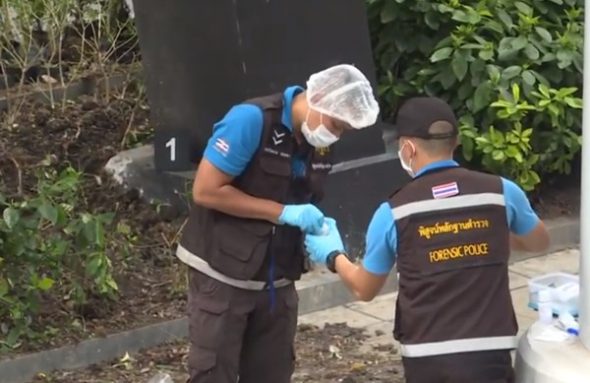 Six bombs exploded in Bangkok on Friday morning at the same time as Thailand's capital city is hosting a major ASEAN security summit. Four people were hurt in the small blasts, but none seriously.
The bombs that exploded did so just before 9 am during rush hour.
The six bombs that went off were planted at the Chong Nonsi BTS skytrain station in Silom (1 bomb), the Chaeng Wattana Government Complex in northern Bangkok (3 bombs, with 1 more that failed to go off), and outside the Royal Thai Armed Forces (1 bomb).
The three people hurt during these explosions are said to be female street cleaners.
The 77-story King Power Mahanakhon tower, which is located close to the Chong Nonsi station, was also a target of one explosion. A security guard was hurt there.
With the targets, the small size of the explosives reported by a number of news media, and the timing, however, it would seem the people who planted the bombs had more of an intent to embarrass and damage the government's reputation than to actually kill anyone.
The situation was made worse for the Thai government, however, by a large influx of foreign journalists and news media representatives that are in Bangkok to cover the Association of Southeast Asian Nations (ASEAN) security summit.
Attendees to the summit from 31 countries are also in the city, including United States Secretary of State Mike Pompeo, and high-level Russian and Chinese officials.
Other possible bombs in Bangkok
It also seems likely more bombs could have exploded this morning, if it wasn't for two men being seen planting explosives outside the police station on Rama I Road yesterday. That bomb was located by police, and dismantled before it could blow up.
It is being reported, although not confirmed, that there may have also been another explosion in a building in the Pratunam area of Bangkok, which was set on fire by a supposed arsonist this morning.
Authorities say there is a possibility that some of the debris they found in the building after the fire was extinguished could be parts of a bomb. An investigation into the fire is now on-going.
Who is responsible for the 6 Bangkok bombs?
While nothing has been officially announced, Thai Police Chief Chakthip Chaijinda did tell the news media it was looking likely today's bombings were carried out by the same insurgents that were responsible for bombs in other Thai provinces in August, 2016.
Meanwhile, Thai Prime Minister Prayuth Chan-o-cha has ordered a full investigation into the situation.
Security in Bangkok after the bombings
While Bangkok police and Thai military are on high-alert after the bombings, authorities say the ASEAN summit has not been affected, and is going on as planned.
Thai police and the army were also out in force with bomb sniffer dogs.
Various BTS skytrain and MRT underground train stations were checked for explosives as a precautionary measure. Trains too saw walkthroughs with sniffer dogs. People using the BTS or MRT are also being subjected to increased security when entering the stations.
This is likely to continue for the next few days at least.
Related: Bombs explode in Bangkok — Iranian bomber bombs himself and loses both legs
09.50 น. เจ้าหน้าที่ชุดอีโอดีและเจ้าหน้าที่ตำรวจ เข้าตรวจสอบและปิดกั้นพื้นที่เกิดระเบิดบริเวณหน้าอาคารมหานคร ใกล้บีทีเอสช่องนนทรี เพื่อหาหลักฐานเพิ่มเติมและตรวจสอบความเชื่อมโยงเหตุระเบิดที่ศูนย์ราชการ แจ้งวัฒนะ, ระเบิดย่านพระราม 9 และไฟไหม้ย่านประตูน้ำ #ThaiPBSnews pic.twitter.com/lkZjI5FUj7

— ThaiPBS News (@ThaiPBSNews) August 2, 2019
แอร์พอร์ต เรล ลิงก์ เพิ่มมาตรการรักษาความปลอดภัย หลังเกิดเหตุการณ์ #ระเบิด หลายจุดในเขตกทม. โดยเพิ่มความเข้มงวดในการตรวจสอบสัมภาระผู้โดยสารบริเวณสถานีรถไฟฟ้าทุกสถานี การเพิ่มกำลังพลชุดสุนัขตรวจวัตถุระเบิด (K9) เพื่อเข้าตรวจสอบวัตถุระเบิดภายในรถไฟฟ้าและขบวนรถไฟฟ้า #ThaiPBSnews pic.twitter.com/h6Lyixaza0

— ThaiPBS News (@ThaiPBSNews) August 2, 2019